WOM Streams – Urn / Entrails / Kobra And The Lotus
URN premieres entire new album 'Iron Will Of Power'
The Black Steel Worshipers of URN are now premiering their new offer 'Iron Will Of Power' in full. The album will hits the worldwide stores today, September 20th.
The entire album is now streaming below:
URN comments on the album: "So here we are after intense work, thousands of kilometers travelling, sleepless nights and challenging ourselves as a band and as musicians. We have given all we could deliver in the conditions we had. Let it roar and hunt you while listening to forgotten Finnish mystery of heretic metal. Fuck the trends, we straighten the bends."
Entrails launches new single, "The Pyre"
On October 11th, Entrails will release their new album, Rise of the Reaper, via Metal Blade Records. For a preview of the record, the new single, "The Pyre", can be heard below:
To hear the previous single, "Crawl In Your Guts", please visit: metalblade.com/entrails – where Rise of the Reaper can also be pre-ordered in the following formats: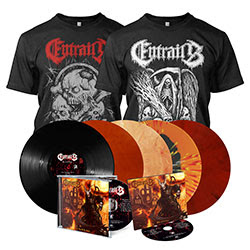 – jewelcase-CD
– limited edition digipak CD (EU exclusive)
– 180g black vinyl (EU exclusive)
– clear orange/purple marbled vinyl (EU exclusive – limited to 300 copies)
– beige/red marbled (EMP exclusive – limited to 200 copies)
– orange/black w/ red/yellow/white splatter vinyl (EU webstore exclusive – limited to 100 copies)
– opaque red/black marbled vinyl (US exclusive – limited to 200 copies)
* exclusive bundles with shirts, plus digital options are also available!
KOBRA AND THE LOTUS Reveal Lyric Video For New Song "Thundersmith"
Calgary-based hard rock quintet KOBRA AND THE LOTUS will finally unleash their latest studio album, Evolution, this Friday, September 20 via Napalm Records! Following up on the previous releases of new tracks "Burn" and "Get The F*ck Out Of Here", the band has revealed yet another new track, entitled "Thundersmith". Watch the brand new video for the track below:
Frontwoman Kobra Paige says about "Thundersmith": "We've laid the sauce on HARD!!! The guitar licks are groovy as ever and the beat is anthemic. I wrote my vocals about my journey in the music industry as one woman singlehandedly pushing a band. This is my way of saying I haven't given up yet. I am what I am. I keep getting up and trying no matter what happens. I'm proud of who I am, I'm going to keep being who I am, and we all should be. If you feel me, hop on my train. Like Chris Cornell said "To be yourself is all that you can do". Let's live empowered, be fucking brilliant, like we we're supposed to so we can be/do better for ourselves and everyone around us."
 
Pre-orders for Evolution are available via: https://smarturl.it/KATL-Evolution