02/03/19 – Lançamento do álbum "Ilusão" – Artigo 21, Suspeitos do Costume, To All My Friends – RCA Club, Lisboa
02/03/19 – Lançamento do álbum "Ilusão" – Artigo 21, Suspeitos do Costume, To All My Friends – RCA Club, Lisboa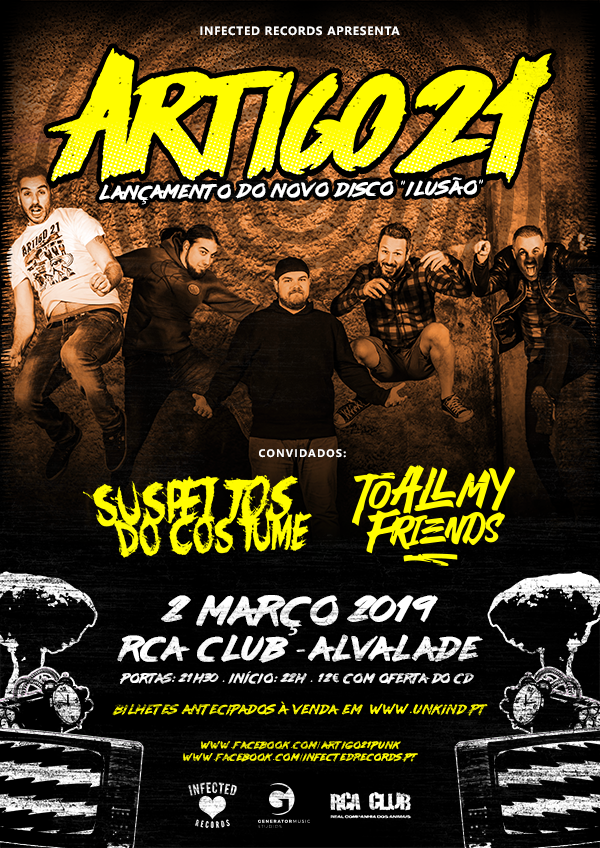 Dia 2 de Março todos os caminhos vão dar ao RCA CLUB!
Os Artigo 21 apresentam "Ilusão", o segundo disco da banda Punk-Rock de Lisboa. São 12 novos temas que prometem surpreender e revelam a maturidade sonora do quinteto, com um vincar de identidade reforçado.
A primeira parte fica a cargo dos Suspeitos do Costume e dos TO ALL MY FRIENDS.
Bilhetes online: https://goo.gl/fnPv7G
"Ilusão" (Video Oficial):
---

Support World Of Metal
Become a Patron!
New WOM Android APP – Read All Our Issues for free!
World Of Metal Magazine – Out Now
Download It Here!