13.03.20 – Earth Drive, It Was The Elf – Sabotage Club, Lisboa – Adiado!
13.03.20 – Earth Drive, It Was The Elf – Sabotage Club, Lisboa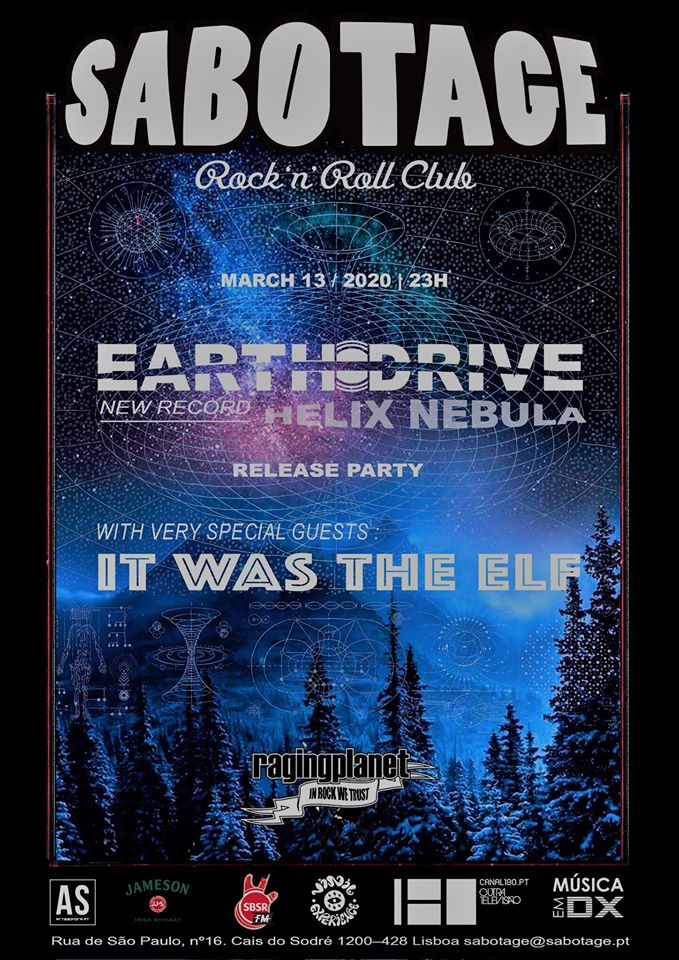 Este evento foi adiado para uma data ainda incerta
EARTH DRIVE:
Os Earth Drive são caracterizados por um som denso, melódico, visceral, catártico e pesado.
A banda portuguesa do Montijo formou-se em 2007 e passou por vários locais e festivais de prestígio da cena underground, como o Festival Reverence Valada, Under the Doom IV Edition, Sprint to Rock festival, VOA Heavy Rock Festival, VOA Heavy Rock Festival, Festival Woodrock, Stonefest, Sabotage Club, Music Box, Hard Club, Woodstock 69, Cave Avenida, Barracuda, Marginália, Cine Incrível Almadense,Cinema Teatro Joaquim de Almeida, Timilia das Meias, Bota´baixo, DRAC e muito mais clubes de igual importância.
A banda também partilhou palcos com conhecidas bandas nacionais e internacionais da cena underground, como Sasquatch, Steak, Crippled black Phoenix, Glowsun, Isaak, Radar man from the Moon, Planet of Zeus, Spectral Haze, Ecstatic Vision, My Master the Sun, Sinistro, Process of Guilt, The Black Wizards, The Quartet of Whoa! , Basalto, Vircator, Riding Panico, Marbles, Moes Implosion, Son of Cain, Heavy Cross of Flowers, Sun Mammuth, Wells Valley, Earth Electric, Desert Smoke, muitas outras grandes bandas.
A banda lançou "Planet Mantra" em 2015 pela editora Raging Planet e seu primeiro álbum "Stellar Drone" foi lançado em 20 de outubro de 2017 pelo mesmo selo com méritos reconhecidos da imprensa underground nacional e internacional.
Helix Nebula será lançado mais uma vez pela Raging Planet em Março de 2020.
https://youtu.be/-5tCjL32-5I
IT WAS THE ELF:
Da Serra da Estrela, em Portugal, a banda It Was the Elf quis criar um som usando todos os elementos e a essência da montanha.
Uma sonoridade Heavy / Stoner Rock que te faz experienciar o cru e o bruto com todo o fuzz e distorção, mas também a beleza e o ambiente da natureza solitária e despojada.
https://www.youtube.com/channel/UCQAuKlkVspaQWfbnBiQjlrw
Bilhetes à venda na própria noite, a partir das 22h30.
---
Support World Of Metal
Become a Patron!