14.03.20 – Vëlla, Equaleft, The Temple, Revenge Of The Fallen – RCA Club, Lisboa
14.03.20 – Vëlla, Equaleft, The Temple, Revenge Of The Fallen – RCA Club, Lisboa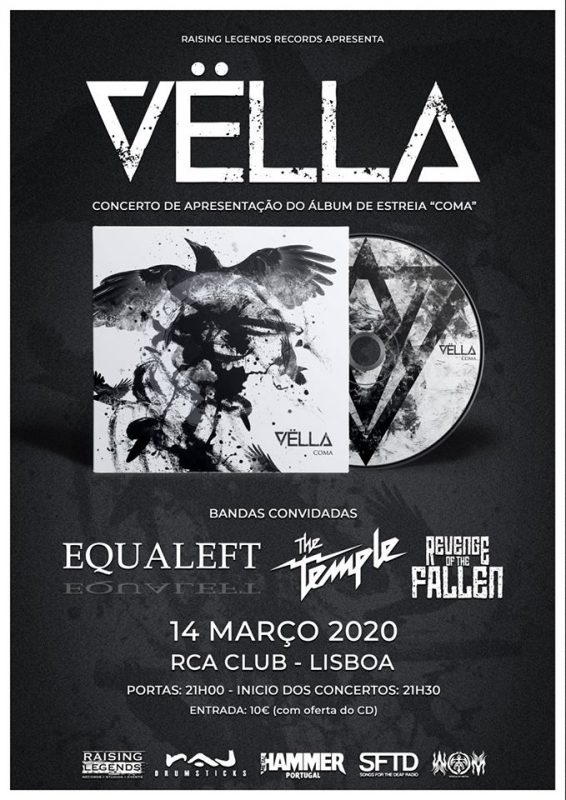 VËLLA apresentam o seu álbum de estreia, "COMA", no RCA CLUB em Lisboa a 14 de março de 2020, naquele que será também o primeiro concerto da banda. Apesar de essas serem razões mais que suficientes para garantires a tua presença, o quinteto lisboeta quer celebrar esta sua primeira aparição em grande. Para isso convidam três bandas de inegável qualidade para partilhar o palco e que irão ajudar a abrilhantar ainda mais a noite: Equaleft; The Temple; Revenge of the Fallen.
SÓ FALTAS TU!!!
Entrada:
10€ (com oferta do CD)
Horários:
21:00 – Abertura de portas
21:30 – REVENGE OF THE FALLEN
22:30 – THE TEMPLE
23:30 – EQUALEFT
00:30 – VËLLA
---
Support World Of Metal
Become a Patron!