16/03/19 – Septicflesh, Krisiun, Diabolical, Xaon – Lisboa Ao Vivo, Lisboa
16/03/19 – Septicflesh, Krisiun, Diabolical, Xaon – Lisboa Ao Vivo, Lisboa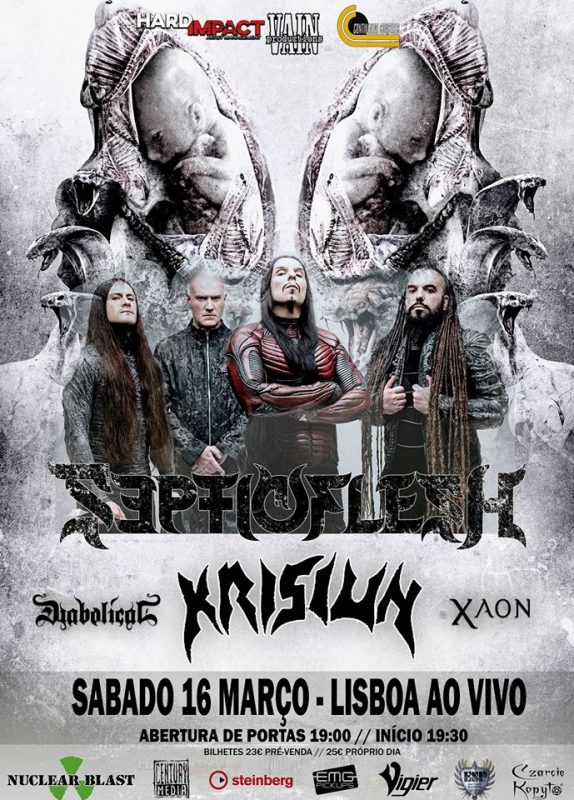 Dia 16 Março Sábado – LAV – Lisboa ao Vivo
Abertura de portas 19:00 / Início 19:30
Os Gregos SEPTICFLESH embarcam numa nova digressão Europeia já em Março acompanhados pelos brasileiros Krisiun, os suecos DIABOLICAL e os suíços Xaon.
Esta magnifica tour passa por Portugal para nos contemplar com dois grandes rituais, dia 15 sexta-feira no Porto / Hard Club e no dia 16 sábado em Lisboa no LAV – Lisboa ao Vivo.
Bilhetes já à venda:
Venda Online:
► UNKIND.pt: https://bit.ly/2QncUXW
► Letsgo.pt: https://www.letsgo.pt/pt/evento/septicflesh-krisiun-diabolical-xaon-lisboa-126/
Bilhetes físicos e personalizados disponíveis também nos seguintes locais:
► Carbono Amadora
► Glam-O-Rama Rock Shop – Lisboa
► Loja Fnac Colombo
► Loja Fnac V.Gama
► Loja Fnac Almada
► Side B Rocks – Alenquer
Preço:
► 23€ Pré-venda
► 25€ No próprio dia
---

Support World Of Metal
Become a Patron!
New WOM Android APP – Read All Our Issues for free!
World Of Metal Magazine – Out Now
Download It Here!