18.03.23 – Almada Deathfest 2023 – Hollywood Spot – Estrelas Feijó, Feijó
Já está fechada a primeira edição do Almada Deathfest que se vai realizar no Hollywood Spot – Estrejas Feijó, no dia 18 de Março de 2023. Esta iniciativa que nasceu a partir de Paulo Soares (dos Rageful e Ruttenskalle) e à qual se juntou o resto dos Rageful assim como João Madeira, o responsável pela gestão do Hollywood Spot, tem como intenção promover o death metal na zona de Almada pelo que será exclusivamente dedicado às propostas nacionais mais tradicionais do mesmo. As bandas confirmadas para esta primeira edição são os Sacred Sin, Theriomorphic, Bleeding Display, Rageful, Tvmvlo e Beyond Carnage.
Este é um evento que conta com o apoio World Of Metal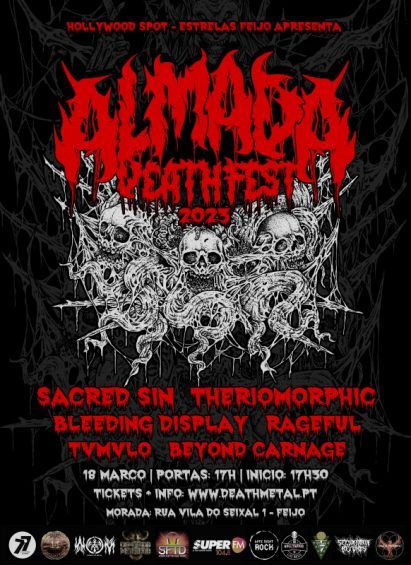 ---
Support World Of Metal
Become a Patron!