20 e 21.03.20 – Toy Dolls, Mata Ratos – Hard Club, Porto e LAV, Lisboa
20.03.20 – Toy Dolls, Mata Ratos – Hard Club, Porto
21.03.20 – Toy Dolls, Mata Ratos – LAV, Lisboa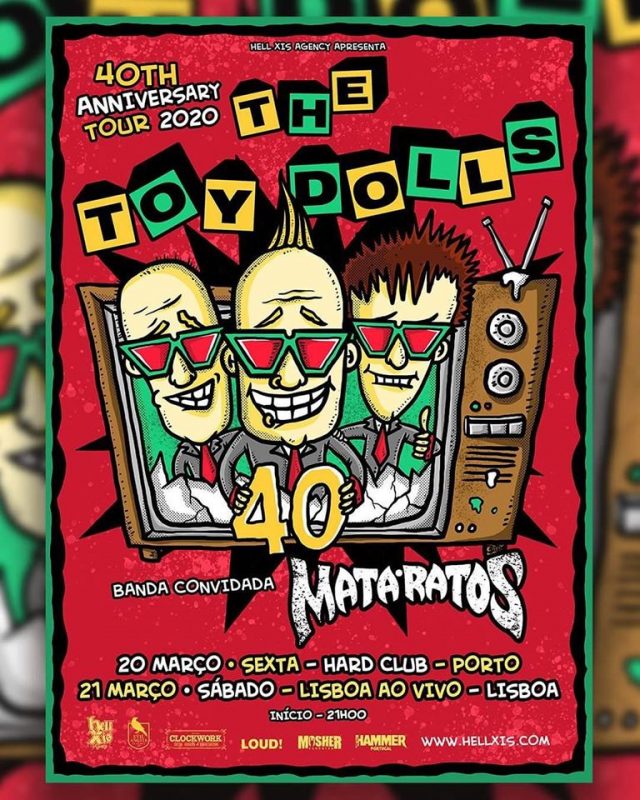 A tour que está a esgotar salas por toda a Europa chega a Portugal. The Toy Dolls em Lisboa e Porto, em Março na celebração dos 40 anos de carreira da banda, que a imprensa musical britânica apelidou de 'one hit wonder', passa por Portugal para duas datas. 20 de Março, no Hard Club, Porto e 21 de Março no Lisboa ao Vivo, teremos a hipótese ouvir todos os clássicos dos The Toy Dolls e os novos temas do ultimo trabalho da banda, 'EPISODE XIII', com o selo Secret Records. Os Mata Ratos são os infames convidados para ambas as datas.
Bilhetes já à venda em toda a rede Blueticket , Unkind.pt ou directamente numa das muitas lojas FNAC, Worten, El Corte Inglés, Turismo de Lisboa, ABEP, The Phone House, Altice Arena, Rede PAGAQUI e ACP.
Bilhetes personalizados à venda na Clockwork e na Glam O Rama.
20€ venda antecipada
23€ no dia do concerto.
---
Support World Of Metal
Become a Patron!