24/25.01.23 – Fleshgod Apocalypse, W.E.B., Nest Of Plagues, Serenity In Murder, Structural – Hard Club, Porto / RCA Club, Lisboa
A Motocultor Festival Across Europe tour 2023, a nova digressão da lendária banda italiana de death metal orquestral Fleshgod Apocalypse vai finalmente chegar a Portugal, ela que vai contar com um elenco de luxo, começando pelos gregos W.E.B., pelos Serenity in Murder do Japão, os Nest Of Plagues da Húngria e os Structural de Israel. A passagem pelo território nacional vai-se dar no dia 24 de Janeiro no Hard Club no Porto e no RCA Club em Lisboa no dia seguinte. As portas estão previstas abrir às 18h:30 e com os concertos a começar às 19h.
Bilhetes já disponíveis nos links abaixo de forma online
Lisboa – https://bit.ly/3McwSSM
Porto – https://bit.ly/3fTi6Ek
Bilhetes Físicos disponíveis nas locais indicados abaixo:
Carbono Amadora
Bunker Store Portugal Porto
Piranha – Loja de Música Porto
Valor do bilhete = 23€ Pré-venda e 25€ no Próprio dia.
Bilhetes já adquiridos para as datas anteriores, são válidos!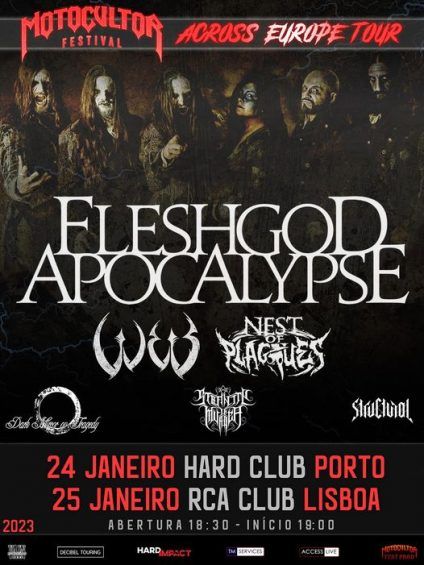 ---
Support World Of Metal
Become a Patron!