27/30.04.23 – SWR Barroselas Metal Fest 23 – Metal Extremo para todos os gostos
O cartaz completo do Barroselas Metal Fest já foi revelado, onde temos quarenta bandas, oriundas de vários cantos do mundo e que vão passar por três dias em Barroselas, que comemora a sua vigésima terceira edição precisamente agora em 2023. O interesse maior será obviamente para poder presenciar o poder mítico de bandas como Triumph Of Death (os Hellhammer revisitados por Tom G Warrior), Pig Destroyer (nome mitico do grindcore), Sadistic Intent (Death Metal), Rotten Sound (Grindcore) e Profanatica (Black/Death Metal) e esse é apenas o começo de um cartaz que traz muitas opções diferentes e de interesse redobrado para os fãs de metal extremo. Para além de Gutalax (Goregrind), Gorod (Technic Death Metal), Inferno (Black Metal), Hideous Divinity (Brutal Death Metal) e Mortiferum (Death/Doom Metal), vamos poder presenciar actuações de nomes como Horna (Black Metal), Crisix (Thrash Metal) , Imperial Triumphant (Avant Garde Black/Death Metal), Esoteric (Funeral Doom Metal), Master Boot Record (Industrial) , para além de Insanity Alert (Thrash/Crossover), Graveyard (Death Metal), Suffering Hour (Avant Garde Black/Death Metal), Sahg (Doom Metal) Extirpation (Black/Thrash Metal), Adrift, Amken (Thrash Metal), Blodskam (Black Metal), Nuclear Warfare (Thrash Metal) e Himura (Death/Grind) . Depois no contingente nacional temos uma selecção imbatível que conta com os Holocausto Canibal (Goregrind), Prayers Of Sanity (Thrash Metal), Vai-te Foder (Crust/Grind), Bleeding Display (Brutal Death Metal), Wanderer (Heavy Metal), Krypto (Noise Rock), Necrobode (Black/Death Metal), Bas Rotten (Grindcore), Terror Empire (Thrash Metal), Pledge (Post Hardcore), Hunted Scriptum (Death Metal), Nagasaki Sunrise (Thrash/Crust), Basalto (Doom Metal), Biolence (Death/Thrash Metal) e Infrahumano (Death Metal).
Um cartaz cheio de talento que se torna irresistível para quem vive e respira música extrema e que em nada fica belicado pelo adiamento dos Sargeist (Black Metal) devido a imprevistos pessoais. Também não se verificará a W:O:A: Metal Battle Portugal, já que será dada a oportunidade a outros países para participarem. Também se esperam alterações no recinto e programa do festival que assim que forem divulgadas publicaremos aqui nestas páginas.
Para já ainda conta como disponível o X-Mas Pack que está a esgotar onde poderão adquirir por um preço mais simpático o passe de três dias, uma tshirt especial do evento e ainda mais três Steels. Confiram em swrfest.bigcartel.com.
Ilustração por Luis Sendón · Illustration & design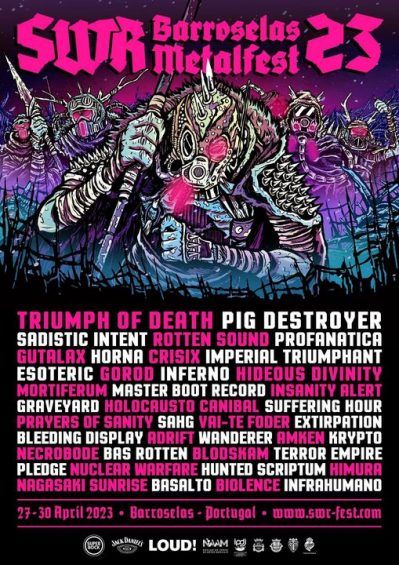 ---
Support World Of Metal
Become a Patron!