29.06 – 03.07 – Resurrection Fest, Galiza, Espanha
Ora aí está o que é. O festival de Espanha que para muitos é tão importante como qualquer um de Portugal – e que durante muitos anos foi motivo de romarias até norte – Resurrection Fest. Claro que chegou a 2020 e as coisas alteraram-se. Para todos. A esperança não morreu e nos tempos que se seguiram, difíceis para todos, os fãs foram aguardando pelo momento em que o Resu voltaria. Com a duração de cinco dias (com o primeiro a ter um cartaz mais curto) mas com nomes emblemáticos como Deftones, Judas Priest, Opeth, Sepultura, Sabaton, Rise Against, Gojira, Mastodon, Korn entre muitos mais. Todos os dias estão esgotados excepto o primeiro – ver aqui – e é garantido mais uma romaria de todos os cantos do mundo.
Abaixo seguem todos os nomes que vão participar por cada dia e, aviso, são muitos e tem nomes lusitanos!
29.06
Deftones, Bullet For My Valentine, Alien Weaponry, Bleed From Within, Serrabulho, Onza, Bolu2 Death
30.06
Judas Priest, Opeth, Sepultura, Hamlet, Spiritbox, Vita Imana, Dark Funeral, Vomitory, Benighted, Numen, Blaze Out, Lèpoka, Arsian, Madball, Morning Again, Misconduct, True Mountains, Bonecarver, Wasted Wiltons, Blaze The Trail, Me And That Man, Wiegedood, Adrift, Chris Masuak, Green Desert Water, Fuzz Forward
01.07
Sabaton, Rise Against, Jinjer, Caliban, Our Hollow Our Home, Free City, Decapitated, Sylosis, Neaera, The Raven Age, Dead Label, Aphonic, Graveyard, Lionheart, Employed To Serve, Svalbard, Skontra, Kids Of Rage, Machina, Turbokraks, Amenra, Celeste, El Altar Del Holocausto, Regarde Les Hommes Tomber, Totengott, Bourbon
02.07
Gojira, Mastodon, Crossfaith, Beyond The Black, Electric Callboy, Skunk Of, Bloodbath, Master Boot Record, Gaerea, Thirteen Bled Promises, Sound Of Silence, Eon, Leaving Mars, Raised Fist, Moscow Death Brigade, Blowfuse, Bournon Kings, The Broken Horizon, Grippers, We Exist Even Dead, And So I Watch You From Afar, Planet Of Zeus, The Picturebooks, Willis Drummond, Sharon Stoner, Acidproyect
03.07
Korn, Bring Me The Horizon, Heaven Shall Burn, Rise Of The Northstar, Dagoba, Deadly Apples, Angelus Apatrida, Enforced, Infected Rain, As Everything Unfolds, Bloodhunter, Mosh, Mind Driller, Knocked Loose, Doyle, Belvedere, Ruxe Ruxe, La Armada, Golpe Radikal, Grima, Toundra, My Sleeping Karma, Ciclonautas, Frutería Toñi, The Dry Mouths, Elephant Riders, Kaleika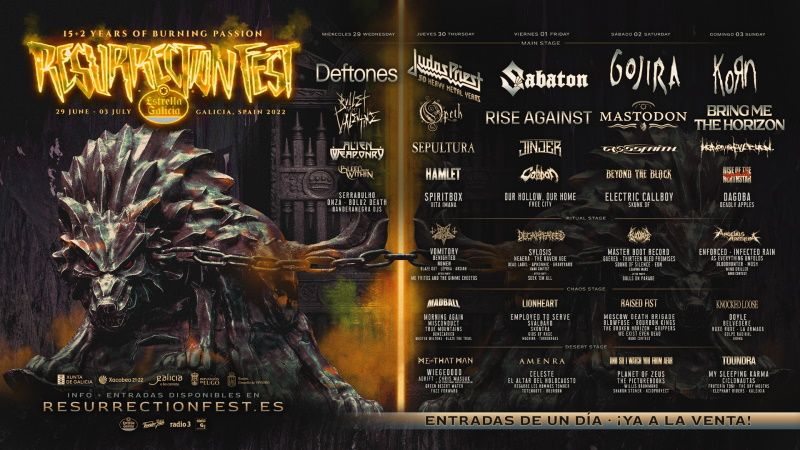 ---
Support World Of Metal
Become a Patron!