30.06 – 02.07.22 – VOA Heavy Rock Festival 2022 – Estádio Nacional, Oeiras
Está de volta aquele que se assume como o festival de música pesada de maior dimensão em Portugal: VOA Heavy Rock Festival. O período de indefinição devido à pandemia fez com que o cartaz tivesse inúmeras alterações e até foi ampliado dos dois dias inicias de 2020 para os três que estão agora confirmados para 2022. Tendo sido feito o melhor esforço para manter o que foi possível mediante o que foi permitido (e desejado) pelas bandas e pelos seus calendários dois anos depois, o cartaz final tem matéria suficiente para agradar a vários fãs de vários tempos de sonoridades. O passe dos três dias já está esgotado mas os bilhetes individuais ainda estão disponíveis a 50€ por bilhete – verificar aqui os vários sítios onde os mesmos podem ser adquiridos.
Abaixo as bandas que vão participar por dia:
30.06
Gojira, Megadeth, Kreator, Kvelertak, Bizarra Locomotiva
01.07
Bring Me The Horizon, Mastodon, Phil Campbell And The Bastard Sons, Crossfaith, Sylosis, Alien Weaponry
02.07
Sabaton, Rise Against, Epica, Me And That Man, The Raven Age, Deadly Apples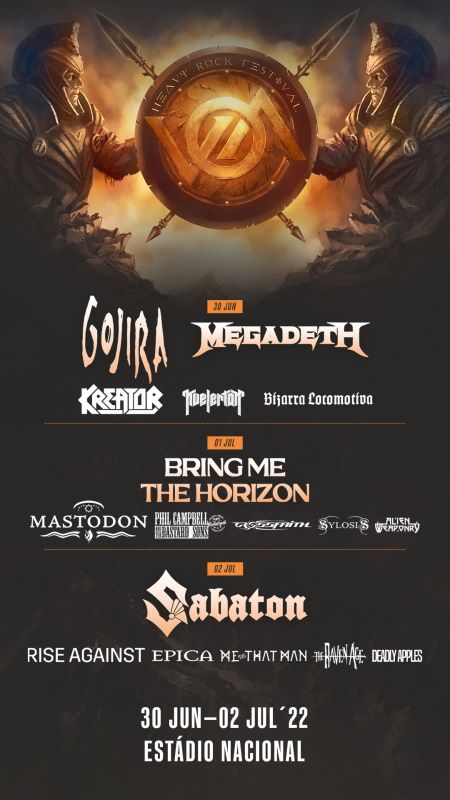 ---
Support World Of Metal
Become a Patron!