Amorphis unveil album title, cover and release date
AMORPHIS have finally finished recording their upcoming new studio album, entitled "Queen Of Time". The record is scheduled for a May 18th release via Nuclear Blast. In comparison to its predecessor, "Under The Red Cloud" (2015), the album will include the use of real strings, flutes, orchestral arrangements and even choirs! In addition, this will be the first time that people will be able to hear their lyricist Pekka Kainulainen on the album as he contributes a speech in Finnish.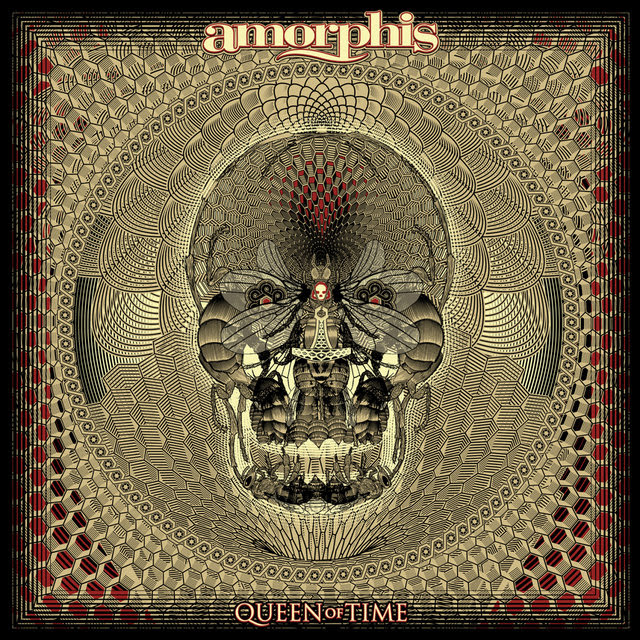 Today, the band unveils some more details on the production, the album title, the album cover (see above) and on working with their new/old bassist Olli-Pekka Laine.
The album was once again produced by the famous Jens Bogren (OPETH, AMON AMARTH, KREATOR, and many others), who is well-known for challenging and motivating the artists during the recording process. He isn't afraid to push them to their limits!
Esa comments: "I guess "Queen Of Time" turned out as a massive surprise to all of us. During the rehearsing and pre-production we didn't have any idea that Jens had this huge picture inside of his head about the landscape of the album. It's a very natural continuation to "Under The Red Cloud" but with steroids. The songs are more aggressive but there's more dynamics, harmonies and orchestral arrangements present. The result is AMORPHIS as something you've never heard before! Essentially, working with Jens worked really well. As a person he is very similar to us – we share the same kind of weird humor and we all like to work hard." 
The cover artwork, which was created once again by French artist Jean "Valnoir" Simoulin from Metastazis, captures the feeling of the lyrics and the music. With Pekka Kainulainen's (lyricist) words, the lyrical theme is universal: "Cultures rise, flourish, and are destroyed. The story of man is the story of searching, finding, and forgetting. A single spark can set the world afire, a single idea can give birth to a new culture. The greatest can stagnate into insignificance, the smallest can hold the power for change. The lyrics on this album are distant echoes of ancient forest peoples, from a time when meaning was proportioned by the cosmic forces that govern birth and death. If the connection was lost, they sought for a strand of knowledge, found a new direction, and a new age began."
"Queen Of Time" will be also the first album with their old/new bass player Olli-Pekka 'Oppu' Laine following the departure of Niclas Etelävuori in 2017. Oppu was one of the founding members in 1990 and recorded the early releases with AMORPHIS ("The Karelian Isthmus" LP, 1992; "Privilege Of Evil" EP, 1993; "Tales From The Thousand Lakes" LP, 1994;"Black Winter Day" EP, 1995; "Elegy" LP, 1996; "My Kantele" EP, 1997 and the "Tuonela" LP, 1999) before he parted ways with the band in spring 2000.
"To be honest, Oppu was the only guy we could imagine being in AMORPHIS. It was funny – when we started to play our first shows together again last summer it all felt so familiar. He was involved with arranging songs and he also even brought some new songs to the table… really good ones, too!" says Esa. And Oppu adds: "Even though the last year with AMORPHIS has been exciting, nostalgic and fun, it's also been truly comfortable to be with the guys again. As a clichéd expression, it's been like returning home from a lenghty odyssey. After eighteen years, it feels like we are picking up where we left off from the good ol' days! I'm really looking forward for the upcoming tour. The new album itself is a really strong package, the only hard thing will be picking which songs to play live! It's safe to say we are set to pull off some killer shows over the next few years. After that, I'm predicting a long and fruitful career for the band in its current form…"
The band will soon kick off pre-orders for »Queen Of Time« and release their first single, so stay tuned!
More info:
www.amorphis.net
www.facebook.com/amorphis
www.nuclearblast.de/amorphis
---
[quadsvi id=1]
Support World Of Metal
Become a Patron!
New WOM Android APP – Read All Our Issues for free!
World Of Metal Magazine – Out Now
Download It Here!