Anunciado o primeiro cabeça-de-cartaz para o Vagos Metal Fest 2018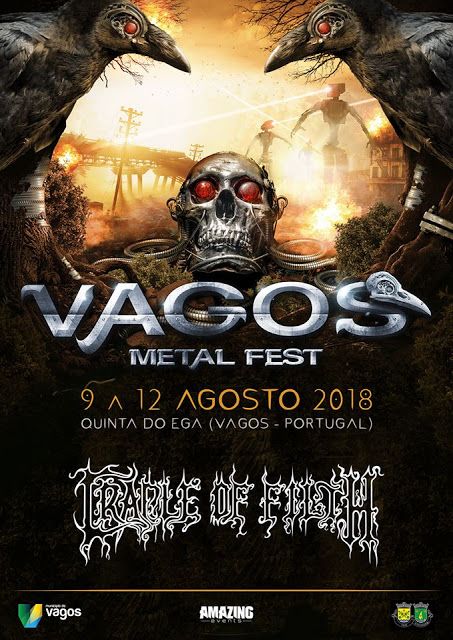 Está anunciado o primeiro nome cabeça-de-cartaz da próxima edição do Vagos Metal Fest: Cradle Of Filth. Abaixo seguem as declarações da própria banda.
"Having recently released the European dates from the Cryptoriana World Tour we've been inundated with fans asking why, as were touring with a Portuguese band as our Special Guests, we were not visiting Portugal.
The answer to that is simply because Moonspell are headlining Portugal themselves prior to our tour, so it made little sense. 
However…
Because of the demand from our Portuguese fans we decided to pursue the idea of playing a show anyway and we can now officially announce that we will be headlining the 2018 Vagos Metal Fest on Friday August 10th.
Vocalist Dani Filth had this to utter on the subject…
"Believe it or not Portugal is a country that Cradle Of Filth holds very close to its heart, as it was the first country that really took the band to it's proverbial bosom back in the day. So it is with great pleasure that we can officially announce that we will be headlining the Vagos Metal fest next year, as we have heard from many bands that it is a great festival to play and that every year it just keeps getting better and better…
I really do hope that this will go some way in satiating our fan's desire for us to visit their fair nation".
Obrigado Portugal!'
Support World Of Metal