Blind Guardian – release 'Mirror Mirror' live track video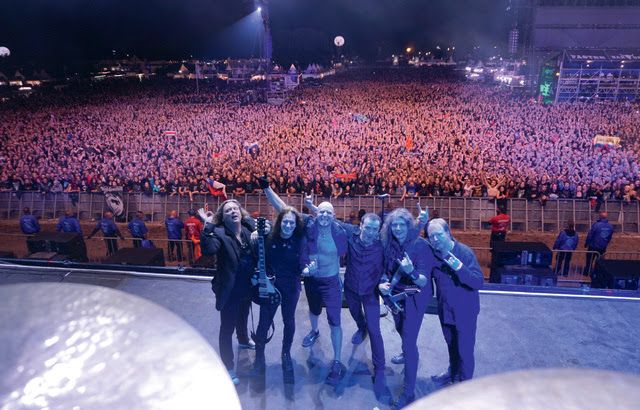 Krefeld, Germany-based progressive power metallers BLIND GUARDIAN announced the release of their first live record in 14 years just a few weeks ago. Guitarist André Olbrich reveals why the time has come for "Live Beyond The Spheres":
"There's several different reasons why it's about time to release a live album. We've had a new rhythm section in the band – Frederik and Bahrend – for a couple of years now. Our interaction improved a lot by their joining and our songs developed a better groove and became more dynamic. The appearance of digital amp profilers and digital recording techniques also made it possible to create a fairly similar sonic image in different venues and to fulfil our image of what a perfect live album should be. Last but not least; we released three studio albums since our previous live album, and we didn't have any live recordings from our relatively current studio material. By compiling a 3-disc package, we were able to create a very extensive and varied set list to reflect our 30-year career with an optimal performances."
The 22-song package entitled "Live Beyond The Spheres", will be purchasable as a 3CD-DIGI as well as a 4LP-BOX. Besides all-time classics such as 'The Bard's Song (In The Forest)', 'Valhalla' and 'Mirror Mirror', rather rarely performed songs like 'And Then There Was Silence' are also a part of this live record.
"We compiled one "show" out of the best tracks from more than 40 live performances, recorded during our European tour in 2015. That's how we pinned down the most beautiful and atmospheric moments on this medium," he adds.
With the live version of 'Mirror Mirror', BLIND GUARDIAN releases one of the above-mentioned classics from "Live Beyond The Spheres" today. The track plus video material from the past tour can be watched over below.
André comments on the track:
"'Mirror Mirror' is one of the biggest classics from BG; known for being celebrated by both, band and fans, at the end of every live show."
Support World Of Metal