Blood God announce 'Rock'N'Roll Warmachine'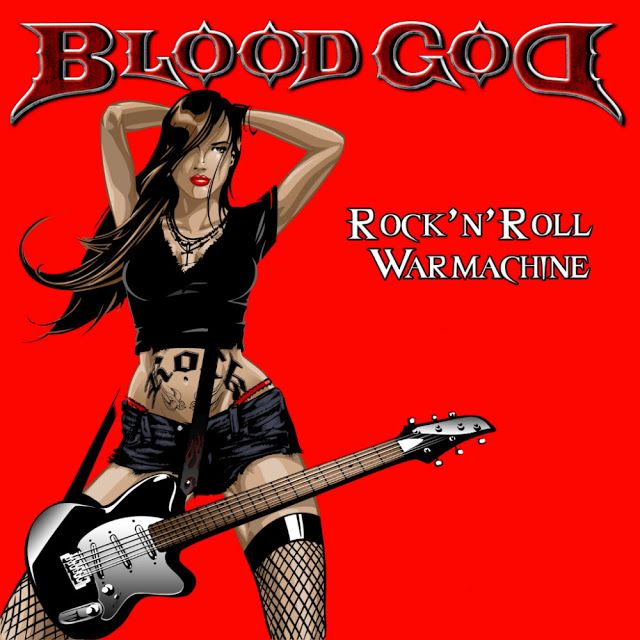 BLOOD GOD are going to release the 3CD digipak "Rock'N'Roll Warmachine" on September 29, 2017 via Massacre Records.
It contains the albums "Thunderbeast", "Blood Is My Trademark" as well as "No Brain But Balls" as well as a total of 8 bonus tracks, including cover versions of AC/DC, Accept and Judas Priest songs!
The cover artwork has been created by Jan Meininghaus.
CD 1 – Thunderbeast
1. Crusaders Of God
2. Bullet To The Head
3. City Of Bones
4. Vampire Holocaust
5. Girl To Adore
6. Super Hot Vampire Lady
7. Devil Dog
8. Super Killer Death Match
9. Anti Hero
10. Second Hand Woman
11. Firethrone Overlord
12. Murdermaker
13. Heavy Metal Monsternaut
14. Thunderbeast
15. Painkiller (Judas Priest Cover) (Bonus Track)
16. Fast As A Shark (Accept Cover) (Bonus Track)
CD 2 – Blood Is My Trademark
1. Slaugtherman
2. Monstermaker
3. Defenders Of The Throne Of Fire
4. Warhordes From The Underworld
5. Carnager
6. Sexy Music For Sexy People
7. Blood Is My Trademark
8. World Of Blood Gods
9. Mr. Kill
10. Dragonbeasts Are Rising
11. Hail Caesar (AC/DC Cover) (Bonus Track)
12. Heavy Duty (Judas Priest Cover) (Bonus Track)
CD 3 – No Brain But Balls
1. Blow Job Barbie
2. Womanizer
3. Nasty Lover
4. Stupid But Sexy
5. This Woman Makes Me Crawl
6. No Brain But Balls
7. Psycho Pussy
8. Lovemaker
9. Rock The Hell Out Of Me
10. Love And Pain
11.Hangover From Hell
12. Hard Rock Party Bus
13. Sex Kitten
14. Rock'N'Roll Warmachine (Bonus Track)
15. Demon Lady (Bonus Track)
16. 3 Riff Hit (Bonus Track)
17. Hard Rocking (Bonus Track)
Support World Of Metal