Boris Celebrate 25 Years Together With New Album "Dear"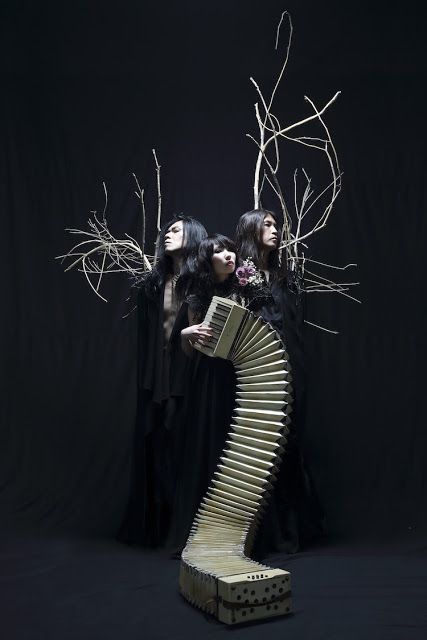 Legendary amplifier-worshipping trio Boris have announced the release of their twenty-third studio album, Dear, which is due out July 14th on Sargent House. Dear marks the band's 25th year of existence and while the 10-track album is chockfull of early-Boris calling cards, the avant-garde mavens aren't learning on old tricks, describing the album as "heavenly—far beyond heavy." Today, Boris have premiered the album's first single and magnificent new music video "Absolutego" via NPR's All Songs Considered who said it "cleaves the Earth in two."
Though Boris have traversed a broad swath of sonic territories, they have always been consistently embraced the excess, pushing their myriad of approaches and stylistic forays to points of intoxicating absurdity. Eventually the band reached a crossroads in the early years of their third decade together, leaving them wondering if there were any new horizons left to explore. The renewed vitality yielded an album that fortifies their monolithic wall of sound while also allowing the individual band members to explore the nuances and intricacies of minimalist riffs played at maximum volume.
Songwriting for "Dear" initially yielded three albums' worth of material by the end of 2015, but as the band was slated to spend a large chunk of 2016 on their "Performing Pink" worldwide tour, they decided to hold off on releasing any new material. The tour further rekindled their passion for the craft, spurring the band to return home to crank out even more new material while scaling down three records' worth of sonic deluge down to one.
From the glacial pacing and earthquaking rumble of the album opener to the smoldering rock 'n roll-infused "Absolutego", Boris have managed to find wildly thrilling work in the familiar trenches of metal. Never ones to shy away from a challenge, the trio carves even experiments with fuzz fueled dream pop. "At the very first moment, this album began as some kind of potential farewell note of Boris," the band said. "However, it became a sincere letter to fans and listeners… you know, like 'Dear so-and-so, this is the new album from Boris' or something like that. We feel so grateful we can release this album in our 25th anniversary year."
"Dear" will be released to the world on July 14, 2017 on CD, 2xLP, and digital formats and is available for pre-order here. Stay tuned for more news to come.
Dear Track Listing:
1. D.O.W.N. (Domination Of Waiting Noise)
2. DEADSONG
3. Absolutego
4. Beyond
5. Kagero
6. Biotope
7. The Power
8. Memento Mori
9. Distopia Vanishing Point
10. Dear
Support World Of Metal