Byzantine launches video for new single, 'New Ways to Bear Witness'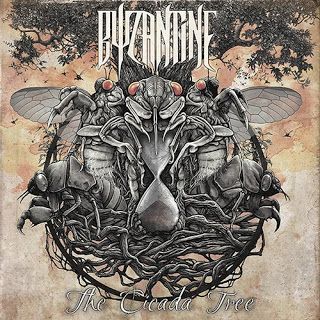 On July 28th, BYZANTINE will release their new album, 'The Cicada Tree', via Metal Blade Records. Heralded as the most underrated band from the New Wave of American Heavy Metal Movement, BYZANTINE has slowly gained a cult-like following after releasing 5 genre-bending albums. 16 years underground, it's finally time for the world to hear BYZANTINE! For a first preview of 'The Cicada Tree', a new video for the single "New Ways to Bear Witness" (featuring a cameo by Skeletonwitch's Dustin Boltjes, as well as ex-BYZANTINE drummer Matt Wolfe) has been launched online. Directed/edited by Holly Siders, the filming of "New Ways to Bear Witness" resulted in Chris "OJ" Ojeda (vocals, rhythm guitar) suffering a concussion. OJ comments about the experience:
"So, we came up with an idea of having our old drummer do a cameo appearance in the music video. Matt Wolfe left the band right before we signed with Metal Blade and had occupied the drum seat for the last 12 years. We felt it was a perfect opportunity to let fans know that we still love Matt and he;s still welcome and important to our band. What's the best way to have an ousted band member make a cameo? To hit me with a vehicle, of course!
We set up the scene and did about 5 or 6 takes of Wolfe hitting me with the vehicle and me rolling off the vehicle. I didn't know until we wrapped shooting the next day that something was wrong and had a very hard time driving home. I contacted an ER doctor friend of mine who told me I needed to come see him ASAP. After a CT Scan and an EKG, he let me know I had a standard sports type concussion from repeatedly hitting my head during the video shoot. I got 3 days off work and a cool story out of it! Rock!"
You can watch 'New Ways to Bear Witness' below
Support World Of Metal