Cannibal Corpse – "15 Year Killing Spree" Review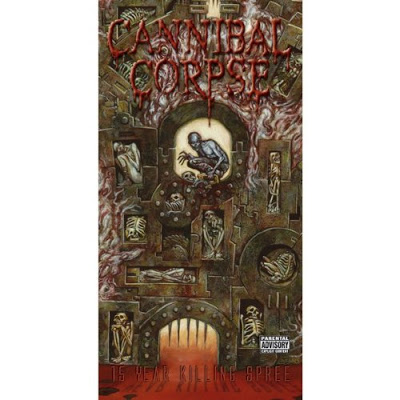 CD 1
1. Shredded Humans
2. Put Them to Death
3. Born in a Casket
4. A Skull Full of Maggots
5. Gutted
6. Covered with Sores
7. Vomit the Soul
8. Hammer Smashed Face
9. Addicted to Vaginal Skin
10. The Cryptic Stench
11. Staring Through the Eyes of the Dead
12. Stripped, Raped and Strangled
13. The Pick-Axe Murders
14. The Bleeding
15. Zero the Hero (Cover dos Black Sabbath)
Duração 55:55
CD 2
1. Devoured by Vermin
2. Disfigured
3. Monolith
4. I Will Kill You
5. Sentenced to Burn
6. Gallery of Suicide
7. Dead Human Collection
8. The Spine Splitter
9. Pounded into Dust
10. I Cum Blood (live)
11. Fucked with a Knife (live)
12. Unleashing the Bloodthirsty (live)
13. Meathook Sodomy (live)
14. Savage Butchery
15. Pit of Zombies
16. Sanded Faceless
17. Systematic Elimination
Duração 57:52
CD 3
1. A Skull Full of Maggots (Demo)
2. The Undead Will Feast (Demo)
3. Scattered Remains, Splattered Brains (Demo)
4. Put Them to Death (Demo)
5. Bloody Chunks (Demo)
6. Unburied Horror
7. Mummified in Barbed Wire (Demo)
8. Gallery of the Obscene
9. To Kill Myself
10. Bloodlands (Demo)
11. Puncture Wound Massacre (Demo)
12. Devoured by Vermin (Demo)
13. Chambers of Blood (Demo)
14. Dismembered and Molested (Demo)
15. Gallery of Suicide (Demo)
16. Unite the Dead (Demo)
17. Crushing the Despised (Demo)
18. Headless (Demo)
19. Bethany Home (A Place to Die) (Cover dos The Accüsed)
20. Endless Pain (Cover de Kreator)
21. Behind Bars (Cover de Razor)
Duração 61:55
DVD
Primeiro Concerto dos Cannibal Corpse – 1989
1. Scattered Remains, Splattered Brains (live)
2. The Undead Will Feast (live)
3. Escape the Torment (live)
4. Bloody Chunks (live)
5. Enter at Your Own Risk (live)
6. Put Them to Death (live)
7. A Skull Full of Maggots (live)
Filmagens da gravação de Butchered At Birth – 1991
8. Drum Sessions & Bass Guitar Overdub
Cannibal Corpse Eats Moscow Alive 1993
9. Shredded Humans (live)
10. The Cryptic Stench (live)
11. Meathook Sodomy (live)
12. Edible Autopsy (live)
13. I Cum Blood (live)
14. Gutted (live)
15. Entrails Ripped from a Virgin's Cunt (live)
16. Beyond the Cemetery (live)
17. A Skull Full of Maggots (live)
Live At The Palace In Hollywood, CA – 2002
18. From Skin to Liquid (live)
19. Savage Butchery (live)
20. Devoured by Vermin (live)
21. Stripped, Raped and Strangled (live)
22. Disposal of the Body (live)
23. Pounded into Dust (live)
24. Addicted to Vaginal Skin (live)
25. Meathook Sodomy (live)
26. Pit of Zombies (live)
27. Hammer Smashed Face (live)
Best of monstruoso de uma das maiores bandas de death metal da actualidade: Cannibal Corpse. Editado há mais de dez anos, é pacote que ainda não perdeu a validade, apesar de apenas focar parte da história da banda – já que a mesma não parou em 2003 e continua até aos dias de hoje. Temos então quatro discos, 3 cds e 1 dvd. O primeiro CD é uma selecção dos melhores temas dos tempos de Chris Barnes, o segundo é uma selecção dos melhores temas com George "Corpsegrinder" Fisher na voz e o terceiro é uma colecção de raridades que vale a pena obter. O DVD também nos traz uma série de raridades que depois viriam a ser incorporadas no mega lançamento com 3 dvds, onde a história da banda é dissecada ao pormenor.
Da selecção quer do primeiro quer do segundo cd não há grande coisa a dizer. A banda não é um dos melhores exemplos para grandes êxitos mas as suas principais malhas desses primeiros quinze anos podemos dizer que estão aqui representadas. Talvez não concordamos tanto com a inclusão da cover dos Black Sabbath no primeiro disco, talvez fizesse mais sentido no terceiro, mas já são detalhes que não interessam explorar. O grande interesse está no cd de raridades, ou seja o terceiro, onde temos a demo de 89 completa, as versões demo das sessões "Created To Kill", que não é nada mais nada menos do que a temas que foram parar a "Vile". O interesse está precisamente na comparação da abordagem de cada um dos vocalistas, tanto Barnes como Fisher – o que nos deixa curiosos em relação à razão de terem dispensado Barnes já que a sua prestação está muito boa.
Ainda temos no segundo CD versões demo do "Gallery Of Suicide" e a terminar algumas covers que a banda gravou. No último DVD temos uma série de preciosidades que depois acabaram por tornar-se algo obsoletas. De qualquer forma, para os fãs e para a altura em questão esta caixa de tiragem limitada revelou-se quase obrigatória – tirando o facto dos dois primeiros cds trazerem faixas que todos já teriam nas suas colecções (tirando talvez a já referida cover de Sababth) – trazendo um livro de banda desenhada, uma palheta e um livreto com comentários sobre a história da banda até então. Em suma: uma raridade nos nossos arquivos.
Nota 8/10