Converge To Release First Album In 5 Years – 'The Dusk In Us' Out November 3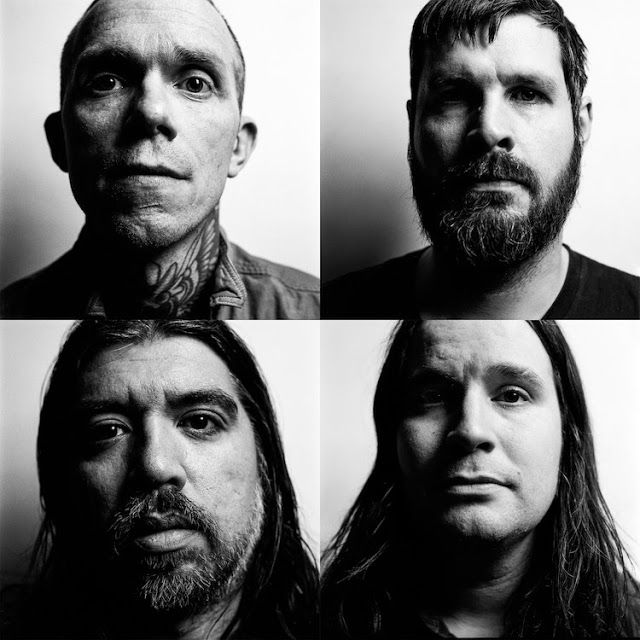 Converge
announce the upcoming release of 2The Dusk In Us", the first album in five years from the Boston-based heavy-music innovators. Due out on November 3, The Dusk In Us will be released via
Epitaph
and
Deathwish
. Pre-orders are available at
http://kr-m.co/converge
As the ninth full-length from Converge (vocalist Jacob Bannon, guitarist Kurt Ballou, bassist Nate Newton, and drummer Ben Koller), "The Dusk In Us follows" 2012's acclaimed "All We Love We Leave Behind". Featured on Pitchfork's Best New Music list, All We Love We Leave Behind was called "as skull-cleaving as it is beautiful" by Consequence Of Sound.
The band also premieres of Converge's new single, "Under Duress." Delivering what Bannon describes as "my emotional reaction to the complex world in which we live," the track merges his tortured howl with pounding rhythms and abrasive guitar riffs.
Listen to "Under Duress" below
Produced by Converge and mixed by Ballou at his renowned Godcity Studios, The "Dusk In Us" shows the band's artistic evolution and avant-garde sensibilities while still capturing their classic sound. After forming in Massachusetts in 1990, Converge made their debut with 1994's Halo in a Haystack. Quickly regarded as pioneers within the aggressive music arena, the band had a major breakthrough with their landmark album Jane Doe—a 2001 release praised as "iconic" by the A.V. Club.
THE DUSK IN US TRACKLIST:
1. A Single Tear
2. Eye of the Quarrel
3. Under Duress
4. Arkhipov Calm
5. I Can Tell You About Pain
6. The Dusk in Us
7. Wildlife
8. Murk & Marrow
9. Trigger
10. Broken by Light
11. Cannibals
12. Thousands of Miles Between Us
13. Reptilian
Support World Of Metal