Dallian – concerto especial de lançamento do álbum de estreia "Automata"
Os DALLIAN vão levar "Automata" o seu álbum de estreia em concerto muito especial ao Roque Bar em Lordelo. O concerto vai ter lugar no dia 10 de Novembro, pelas 22:30 e é de entrada livre. O álbum de estreia de Dallian, "Automata" vai ser lançado a 9 de Novembro pela editora Nox Liberatio Records, e já se encontra em pré-venda na webpage da editora – https://noxliberatio.com/shop/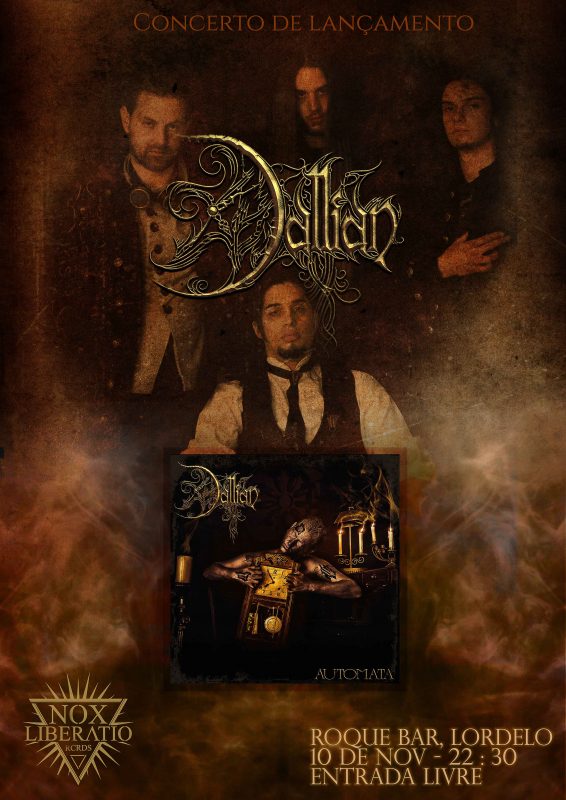 Da união alquímica entre o "Metal" e a estética do "Steampunk" emergem os leirienses DALLIAN. Enraizada num sólido background de death-metal moderno que se conjuga com o virtuosismo de elementos sinfónicos numa dinâmica progressiva, a música dos DALLIAN materializa-se agora no álbum "Automata" – uma obra magistral cujos conteúdos líricos se focam no oculto, na espiritualidade, no conflito humano e na ideia de iluminação típica da era vitoriana.
---
[quadsvi id=1]

Support World Of Metal
Become a Patron!
New WOM Android APP – Read All Our Issues for free!
World Of Metal Magazine – Out Now
Download It Here!