Dying Fetus announce new album Wrong One To Fuck With coming June 23 via Relapse Records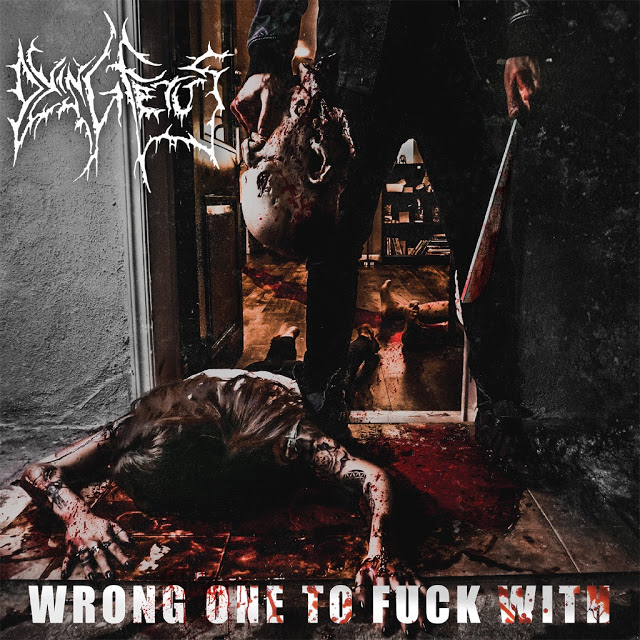 Death metal overlords Dying Fetus has revealed the album art for their 8th studio album, Wrong One To Fuck With. The album will be released on June 23, 2017 via Relapse Records. Stay tuned for preorder information in the coming weeks.
Dying Fetus once again raise the bar of sonic extremity with their 8th studio album and first new material in over 5 years, "Wrong One To Fuck With". The seasoned veterans manage to further stretch their creative and technical boundaries across 10 complex tracks of pulverizing death metal, filled with more dynamic intricacies, brutal breakdowns and varied vocal patterns than ever before. Now over 25 years into their distinguished career, Dying Fetus cement their legacy with "Wrong One To Fuck With" and uphold their position as the most dominant force in death metal today.
The first press of "Wrong One To Fuck With" on CD includes an expanded, deluxe packaging and the exclusive bonus track "Induce Terror"!
Additionally, Dying Fetus will embark on a full European tour with Hatebreed starting this week. All confirmed tour dates below.
Dying Fetus Tour Dates:
— All Dates April 12 – April 29 with Hatebreed —
Apr 12 – Koln, DE – Essigfabrik
Apr 13 – Magdeburg, DE – Factory
Apr 14 – Warsaw, PL – Progresja
Apr 15 – Berlin, DE – Astra
Apr 16 – Schijndel, NL – Paaspop
Apr 17 – Solothurn, CH – Kofmehl
Apr 18 – Saarbrucken, DE – Garage
Apr 19 – Nurnberg, DE – Hirsch
Apr 20 – Munchen, DE – Backstage
Apr 21 – Bologna, IT – Zona Roveri
Apr 22 – Innsbruck, AT – Hafen
Apr 23 – Lindau, DE – Club Vaudeville
Apr 25 – Besancon, FR – La Rodia
Apr 26 – Munster, DE – Sputnikhalle
Apr 27 – Aarhus, DK – Train
Apr 28 – Oslo, NO – Parkteatret
Apr 29 – Sweden – Frimis Salonger
May 25 – Vancouver, BC – Modified Ghost Festival II
Support World Of Metal