Incantation announce new album Profane Nexus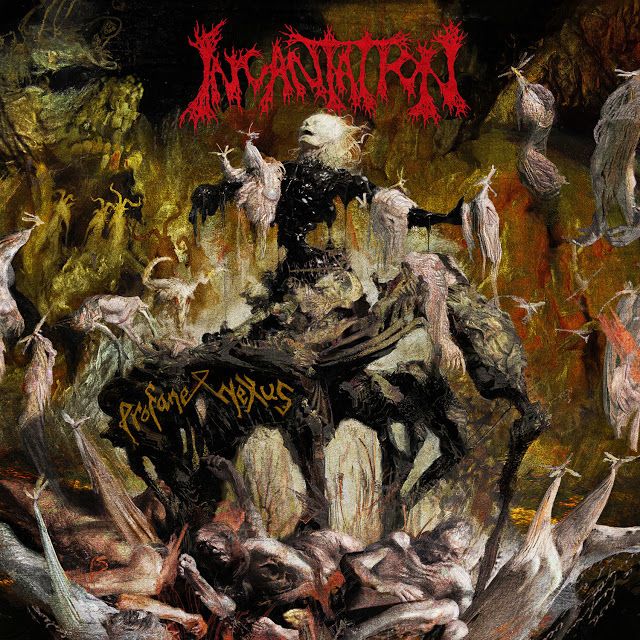 Album Art: Eliran Kantor
Legendary blasphemers INCANTATION are set to unleash a deadly arsenal of vertigo-inducing extremity with their forthcoming 10th studio album, entitled "Profane Nexus". The album will drop on August 11th via Relapse Records. Watch the official teaser video for "Profane Nexus" at this location.
INCANTATION have taken steps to ensure that the musical malevolence contained within "Profane Nexus" is matched by its visual depravity. To achieve this, they've enlisted the talents of Israeli artistic maestro, Eliran Kantor. The cover art, aptly-titled 'Draping The Tar Monster', was birthed following the ingestion of the album's lyrical themes.
Eliran commented on the album art in an interview with And Justice For Art…:
"Chuck Sherwood (bass) showed me the lyrics he wrote and went into details about the themes behind each song. There was one song dealing with the natural habits of locusts and one about a deity who's wearing flayed human skin. I imagined it having a monster-like body made of tar, with the locusts draping it with skin parts they pick from a pit full of human sacrifice."
Stay tuned in the coming days for full album details, which will also include the release of the album's first single, "Rites Of The Locust", presented in 360°. In the meantime, a cryptic teaser for Profane Nexus can be viewed below.
In other news, INCANTATION have revealed their involvement in the forthcoming horror film, appropriately titled DEATH METAL. Drummer, KYLE SEVERN – a rabid consumer of all things horror – has become heavily involved behind-the-scenes, working closely with the film's writer and director, Michael Kuciak.
Currently in production, the film follows fictional metal band ABYSSINISTER, who inadvertently write a song so evil that anybody who hears it falls under a deadly curse. Think EVIL DEAD in the GREEN ROOM. Head here for a detailed synopsis of the story.
In preparation for INCANTATION's cameo in the film – a scene that sees the guys headlining a night of live death metal – the band are inviting all fans to the actual filming of the scene, set to take place Thursday, June 8th at The Agora Ballroom in Cleveland, Ohio. This is an actual night of live music, with each band on the bill getting a good amount of screen time. Other acts include; BLACKFINGER, EMBALMER, SHED THE SKIN and FAITHXTRACTOR.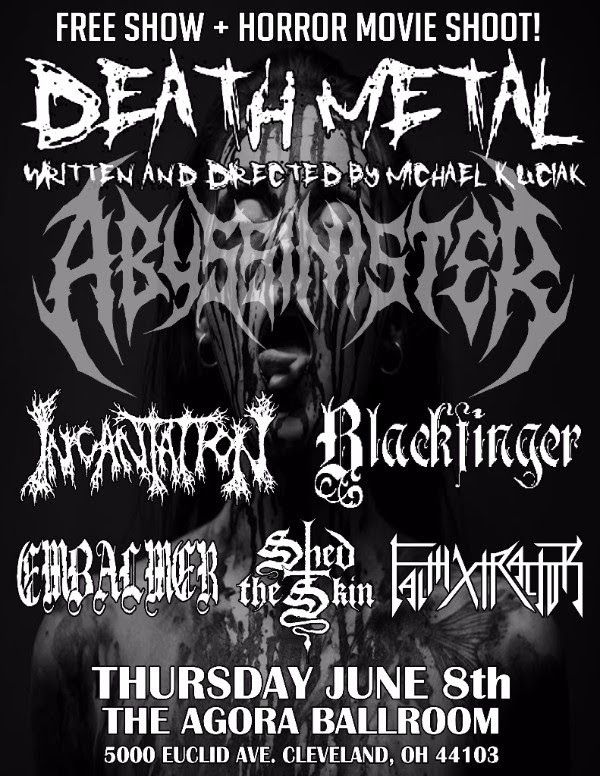 Support World Of Metal