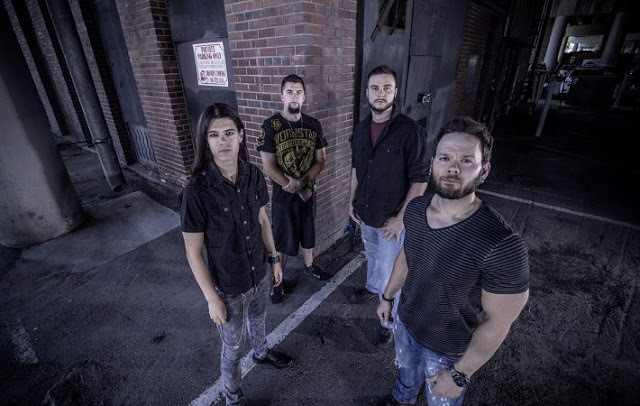 U.S.A. might not be the ideal destination to power metal (or at least, not the expected one), but Cellador's second album proved us that we got the keep our minds and ears wide open. Mighty sound and mighty album was all that it took for keeping us hooked. And when the opportunity to meet them a little better was upon us, we didn't hesitate. Christopher Adam Petersen, Cellador's vocalist, guitarrist, founder and also the band's spokesperson for this interview
WOM – I was impressed with the sheer power of "Off The Grid", really putting the "power" in power metal. What are the reactions so far to it?
Chris – Thanks! We aim to convey feelings of power and strength from our music so that's always a big compliment for us. We strive to make our songs high energy, high intensity, with infectious melody and catchy riffings but while keeping things authentic. We never go out of our way to appease a certain musical trend or demographic so I like to think there's an element of integrity in there too. We don't care who shreds the fastest, who has the craziest song structures, who has the "heaviest" or edgy dark sound, and who is playing the latest cool tuning. We only try to convey with efficacy what we feel is our own inspiration.
WOM – "Off The Grid" is the second album but it was released eleven years after the first. How come? Was it due to the line-up changes?
Chris – Well we also have an EP release "Honor Forth" with 4 all original tracks that was officially released in 2013 under our own publishing entity. It hasn't had as much promotion as "Enter Deception", but it's out there selling and we did support it with a month tour and more than forty regional shows. But that aside, there were delays after delays that were in and out of the band's control. Lineup changes were a big part but not all. "The Enter Deception" (2006 album) line-up was a ticking time bomb ready to blow up from the start. We were fighting and having communication issues before our first album was out(I recall myself and our singer basically not speaking to each other at all for the recording of that album). All great players, but not great attitudes and workability. We lost a lot of opportunities back then because the lineup wasn't able to sit down in the same room together and reach a few simple mutual agreements. So by about 2010, already really delayed, that line-up finally died it's slow inevitable death and I decided I wasn't going to let poor attitudes, fickle music tastes, and selfishness end my band's short life. So I relocated to Denver and spent over two years carefully auditioning and assembling what has become the lineup today. Since late 2011 we've been a cohesive and agreeable bunch of guys. Line-up issues are no longer a cause for delay. But where line-up delays end, another delay began. After reforming the full band in 2013, we quickly picked up on playing the Denver music scene and released the Honor Forth EP that Summer. Soon after its release we began working under the guidance of industry representation that loved the EP and were helping us find a new label to release our comeback album and re-enter the worldwide metal scene. By mid 2014 we were being told there were interested labels but no one had yet offered a contract. We were being told there was to be a negotiation process involved before any official signing was to take place. So… we took that advice to heart and began writing for the new album, expecting to be recording and releasing it by the end of 2014 or 2015. Long story short and without going into too much detail, we spent almost 2 and a half years (2014- 2016) waiting on label negotiations that ultimately didn't end in any officially committed signing or release . We would sit on one negotiation process for months, only to have them not able to fulfill their agreed part, then start all over with another label for months, and have that one change their mind as well. In short, the band has been ready and eager to release this album for 3 years now, in fact it has been done since Summer 2015. Lesson learned! By mid 2016 we decided to take action and get things done ourselves. I got in contact with Scarlet Records and in very quick time we were able to come to a great deal together. They've expressed sheer excitement to release the album and quickly got things together for us. Finally here we are!
WOM – Do you feel that, because that long silence album-wise,you have more pressure now to compensate that absence?
Chris – Absolutely. I hope it comes out in the songs and quality of the album. I wanted to make sure new and old fans know we dedicated a high drive, high intensity, and high inspiration on this album. That's just what happens when you have true synergy with your bandmates, something that wasn't there years ago on "Enter Deception." It's what happens when you indoctrinate yourself with the knowledge that you are the decision maker and master of your own destiny. Also I feel grateful that we've been given a second chance, it's a rare opportunity for musicians to revive themselves and here we have done it. With all the new experience we have, the knowledge we know now, it's like we've ascended from "Cellador the Gray" to "Cellador the White" (Lord of the Rings reference). We're going to do our best to play catch-up on releases while maintaining quality. We're actually already halfway into the writing and recording for our next album!
WOM – Do you are going to take the album to the road? Any tours planned in Europe?
Chris – That's our intention and we're trying to make it happen. Rehearsals are underway as we speak. I personally have expressed wanting to hit the East Coast USA and Canada ASAP because we didn't get there during our 2014 touring. But emails are getting passed around and we're trying to put something together for international touring as well. This album will be well represented in much of Europe and Japan, so it makes sense to investigate touring there.
WOM – Knowing that metal isn't popular in the U.S. as it was decades ago, can you tell us how's the metal scene there?
Chris – I do agree and think we were lucky to have been originally signed and active around 2004-2007 when metal had a mini-resurgence in the United States (at least in styles we're somewhat similar to). It's hard to really assess if my perceptions on its inactivity these days are real or if I just am not as "in the know" on the newer metal bands and scenes. My senses tend to sway towards me not thinking the metal scene is as prolific these days but that doesn't mean it doesn't still draw a lot of people and doesn't mean I don't think it's here to stay. It might also just be that there's actually more bands these days and the fanbase hasn't kept up with the growth, so these newer bands just share a smaller piece of the pie and are willing to accept less tangible benefit for their efforts. Its definitely a listeners' market in metal and its fair chance to say in the metal scene a lot of your fans are probably in bands as well haha. But that's ok! It's good to think things from a mentality of abundance. Luckily also, its of my own anecdotal observation that metal fans are amongst the most loyal and generous of all music genres, and they continue to buy merch and albums in proportions much larger than others, so that's a positive too.
WOM – And in particular, about the power metal scene… We don't see many power metal bands coming from the U.S.A… is the power metal scene strong with good bands that you recommend?
Chris – I think there'd be more if more musicians took the plunge like I did and started singing! The issue in power metal is always finding the right singer.. someone who's tasteful, not gimmicky, and also is stable mentally. I don't think you need to have a classical operatic voice to sing power metal. Raw and unique voices are good! Just train your ear and get behind a mic. I think it's ridiculous that in metal nowadays, "clean" vocals and vocal melodies are now a niche trait for a small subsection of metal genres. For every metal band with a clean singer, there are10-20 bands growling and screaming. Full saturation! But ranting aside, the style and quality of power metal bands coming out is still a rare thing in the USA. Our version of "power metal" bands are usually more retro sounding with old school production styles and presentation, which I think is kind of cool. Think 80's throwback.. denim type stuff. There are a few European-styled bands here, but I'll just be honest with you, most of them seem to be part time bands that play at best a half dozen shows a year. They stay on a side project level which isn't the best way to develop a scene. The fanbase is smaller here but very devout to the scene and each other. One point needs to be made about that though. This is great for inclusiveness and camaraderie as a fan, but for bands I think embracing such a small scene as your primary fan base is choking to your potential. I've felt it's best to maintain an "outside the box" approach to marketing your music. If you willingly choose to fall down the US Power Metal rabbit hole and its family, and all its usual bigwigs and mainstays, you may end up being stuck there for life. This is usually why I don't describe our band as power metal, but instead just say we're a melodic speed or melodic heavy metal band. We try not to spearhead ourselves or marginalize our music any more than we have to.
WOM – We definitely noted some Dragonforce and Tyr vibes in your sound. Does that make sense to you?
Chris – The Dragonforce comparison we get all the time. I think we are a bit more dynamic, versatile, and authentic personally, especially with this latest album, but the comparison makes sense as I was a fan of the band back in the early 2000's. I've met them a half-dozen times over the years, great guys and very down-to- earth. Tyr is a new one! I can't say I listen often but I do like those guys a lot. I had an ex-girlfriend show me their 2013 album and I loved it.
WOM – Best of luck for your album, it's a killer one. Thank you for this interview.
Chris – Thanks so much! We appreciate the interview. We're very excited to begin this new era for the band!