Interview / Entrevista: Thron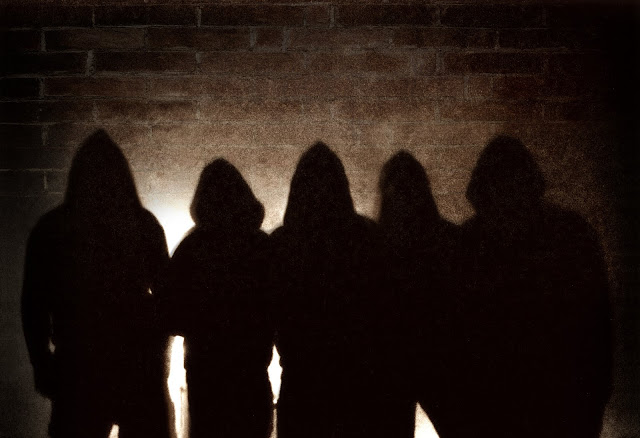 Thron's debut album came to us like a thunder in the sky. Black metal according to what the second wave brought us in the nineties, a touch of death metal here and there (Dissection come across our minds more than once) and a quality level that's really high were more than enough reasons for making us fans. Because there's not many information regarding this new german band, we've approached them for a short interview. This is what you get.
WOM – Greetings and salutations from Portugal. Your debut album is awesome. How do you feel about it? Did it turn out how you expected or is thre anything you think or feel you've could done diferently?
Thron – Hey there! Thank you, we really appreciate it. We´re quite happy with the album. But there are always things you want to change afterwards. The songs were written over a longer period, where we needed to find an own "identity" and sound for the band. It turns out that the first songs are much simpler then the later songs, which are deeper and more technical. So the one thing i miss on the record is some sort of homogeneity. I think the next album will have a much clearer vision and compelling nature.
WOM – What are your main influences?
Thron – There are some obvious influences, like the almighty Dissection. I started the band as a tribute to bands like the forementioned or other 90´s bands like Edge of Sanity, Unanimated, Entombed, Dismember etc. I started my first Death Metal band in 1991 and played in a Black Metal band around 1994/95. So much changed since then, but not my love for these bands from back then. But on the other hand i don´t wanna be tribute- or coverband, i want to create an own idendity. We have a wide taste of music, not only metal. I listen to all kind of stuff, from classic rock to doom to progressive rock to black metal. My influences are musicians/artists where i have the feeling, that they are "real" and no fake. People that put all their passion and emotion in their art, no matter what, without compromises. One of THE few contemporary bands i really love for their attitude is Deathspell Omega.
WOM – Regarding your lyrics, what is your main inspiration for writing?
Thron – The lyrics on the debut album mainly deal with different aspects of satanism, mythology and religion. I don´t say that this is our main inspiration for the band.
The next album could focus on other topics, we´ll see.
WOM – How do you see the black metal scene nowadays, in Germany and in rest of the world? Is there any band you feel close to?
Thron – The Black and Death Metal scene is really popular at the moment. Looks like the Doom hype is over and people found a new trend. But there are lots of great new bands out there, i have to admit. I just can´t stand most of these hypebands like Deafheaven, Liturgy or Ghostbath. I mean, most of these guys don´t have anything to do with the metal scene. They are punk and indiekids which probably made fun about metal 3 years ago. I don´t have anything against indie or punk music, by the way (laughs). In germany there are tons of new bands and the scene is very strong. There are lots of shows and festivals. So we can´t complain about that. Look out for Sulphur Aeon, Ultha and Sun Worship (i´m sure i forgot dozens of others). At the moment I really dig the new records of Bölzer, Blood Incantation, Deathspell Omega, Ulcerate, Ash Borer and Oranssi Pazuzu (talking about the worldwide scene). In our area – at the border of germany/switzerland/france- we have Triptykon, Bölzer, Destruction, Zatokrev, Ashtar, Pessimist, Firtan, Convictors, Shamane, Zeal & Ardor, Schammasch, Mightiest and tons more.
WOM – There isn't much information about you guys. It's something you prefer to, so that the main focus is the music?
Thron – Exactly. We want to put the main focus on the music. We don´t want to play this "ex-members of blabla" game. The music and the atmosphere are more important and bigger then the people behind it. There are people that say we stole our stage outfit from Mgla. I mean,how many bands are there nowadays that wear these masks? A lot. And i´m sure they don´t wanna copy Mgla, but they do it for the same reasons as Mgla : Put the ego in the background and let the music speak for itself, that´s just it. Is every Black Metal band that wears corpsepaint a King Diamond copycat?
WOM – Certainly not. What are your expectations regarding the future?
Thron – I hope some people will like the record and we want to play more shows in 2017. And we´re already working on album no.2, so be prepared.
WOM – Any final words / thoughts?
Thron – Thanks for giving us the opportunity for this interview. Would be great to play in Portugal one day.