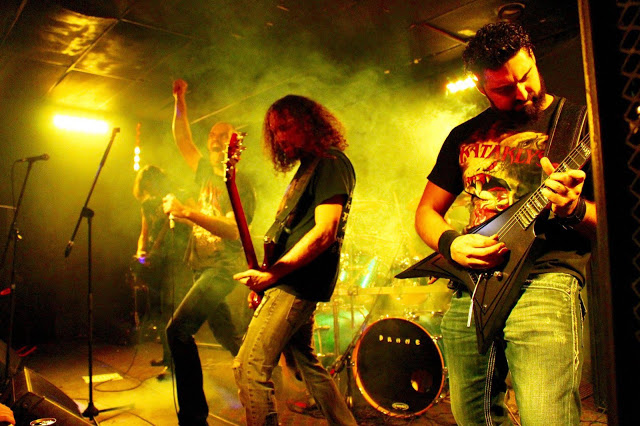 We already knew that Canada is a gold mine regarding quality metal bands, but each time we cross our ways with bands like Hammerdrone, we can't help feeling amazed by them. Hammerdrone released recently their second album, "Dark Harvest" and it was more than enough reason for a nice talk with the guys.
WOM – Congratulations for yous sophomore album. Proud of what you achieved with it?
Hammerdrone – Absolutely! I think this is the strongest, most coherent release that we've done yet – and achieved under the most difficult circumstances, too: I moved overseas for 18 months during the writing and recording process, and Vinnie, our drummer, had to learn how to record, mix and master in order for us to produce the album. So we really challenged ourselves on this one and it took a lot longer to produce the final result than we had hoped! But we were determined to produce an album that would stand toe-to-toe with any commercially-supported efforts, and I think that we have done so.
WOM – It's your second one, released by on your own? Do you intent to keep with the DIY mode?
Hammerdrone – I think that for recording, we can do pretty much what we need to by ourselves. We are happier with the result than with our previous recordings: we were able to give the music the attention to detail that it required, and ensure that the sound reflected our interpretations of our songs and not someone else's. In terms of promotion, I think that having the support of a record company would help us get noticed – it's difficult to stand out among the crowd when the internet is overcrowded with bands demanding people's attention – but until that happens, we will continue to do things our way and work hard to promote ourselves and just have to hope that people sit up and take notice!
WOM – I tried to avoid this question but I can't any longer. What is wrong with the water there in Canada? Is there no bad bands? I say this because there's a ton of good bands from your country. Is there the metal scene strong?
Hammerdrone – There ARE lots of great Canadian bands…I don't know why! Maybe it has something to do with 6 months of winter encouraging lots of rehearsal (as well as encouraging the darker emotions that metal is so good at expressing). Of course there are bands who aren't as good, but the general level of musicianship and talent is high. Our scene in Calgary is almost too good, in that there are often 3 extreme metal shows on the same night! But I'd say that local music here is fairly well supported by fans and venues and that makes us lucky!
WOM – One might feel tempted to say that you have some swedish death metal influences because of the harmonies but there's more than meets the eye in your sound. Do you had a plan for what you wanted to sound as a band or it's just natural?
Hammerdrone – We've never deliberately aimed to be a "melodic death metal" band – that's just what happened naturally. I guess it's a genre of music that we all appreciate, and Rick, who is our main songwriter, is a big fan of that style of music. But we are just writing what comes naturally and trying to be honest to ourselves.
WOM – I bet that you plan to tour for promoting "Dark Harvest". Where are you planning to go? Europe maybe?
Hammerdrone – We would love to do a European tour! But we don't have plans for that, right now…it might not be very "metal", but it's difficult scheduling touring around jobs and family commitments, so for now we are planning on keeping our shows to Western Canada. We are appearing at Loud As Hell festival this year, which is in its 6th year and being headlined by Battlecross, so we are pretty pumped about that.
WOM – Talking with other canadian bands made us aware of the difficulties of touring in your own country, because of the wide distance between the great cities. Is that a problem that you also have?
Hammerdrone – Oh, absolutely. The nearest big city to Calgary is Edmonton – which is a 3 hour drive away! Other than that you have to drive at least 6 hours to get to somewhere sizeable…Canada is huge and beautiful and it's nice that it's sparsely populated, but for touring we long for a European population density!
WOM – What are your main objectives for the near future?
Hammerdrone – We're releasing the album on March 24th and will be doing all we can to promote it across the international metal underground. Then it's time to start on album number 3!
Support World Of Metal