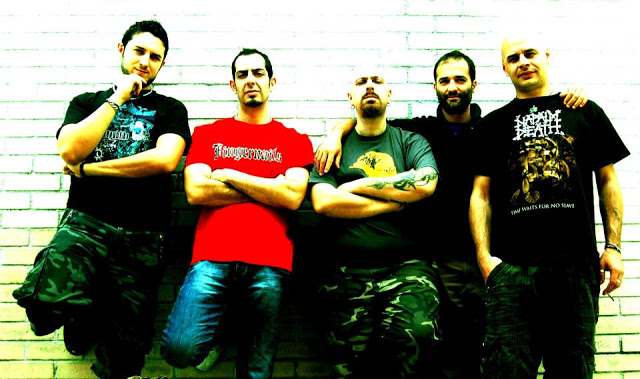 Nofuck is a strong name that suits with the death/thrash sound that the italian band brings. "Walls Of Flesh" is the third album from Nofuck in the year they celebrate twenty years of career. Davide is their drummer and was the voice of the band that received us.
WOM -"Walls Of Flesh" marks your return after a ten years absence. Was the band inactive during this period? What happened?
Davide – Hi and first of all thanks for this opportunity. To be honest, the absence concerned the writing and the release of our new stuff. In these past ten years we had a lot of live shows, playing also some of the new tracks. Clearly we have our works, families, children and we had some complications during the recording session, but we didn't drown in an inch of water.
WOM – Usually the third album is seen as the definitive one, the one that shows where the band is going to headed and is going to be successful or not. Did you feel it like this, that had something special and different from the two previous releases?
Davide – Indeed "Walls of Flesh" is our second album after "Existenzminimum", while "Syndrome" was just an EP. And I agree with this vision, for sure: our new work marks a change of style, bringing it towhards much technical shores and with a sound we never had before, thanks to a second guitarist and Stafano Morabito's production, who makes the impact of our sound more direct. Stylistically always us, but with more maturity and self awareness.
WOM – What are the reactions to "Walls Of Flesh" so far?
Davide – I must say: really good!! We're happy how webzines are reacting so far, with notes more than good and with adjective and comparisons very important regarding our proposal. It's always good when your "artistic creature" is esteemed and creates a certain appeal in a very demanding enviroment such the Metal scene.
WOM – Your sound is a mixture between death/thrash metal and we can't say where one begins and the other one ends. Do you feel like a balance that has to be achieved (between the two genres) or your music just comes out this way, naturally?
Davide – I can assure it was natural, during the writing. We didn't force ourselves to be more Thrash or Death, we only searched the solution which should have the loudest impact. But we never lose sight of melody, which in my opinion is essential, 'cause it makes mosh and speed parts more aggressive.
WOM – What are your main influences?
Davide – David (guitar player) and me are the main writers. As all metalheads in the world, we loved the greatest bands from 80's and 90's, like Pantera, Anthrax, Sepultura, Testament, Carcass, Obituary, Death… but also other bands less famous that affected our sound. As a drummer, I prefer drummers from these last (Nevermore, Carnal Forge, Chimaira, Hatebreed): in my opinion they're such great artists.
WOM – Regarding the lyrics, where do you get your inspiration? Everyday life, the state of the world or subjects even more personal like inner demons?
Davide – Personally, my inner demons, for sure! The foundation of our lyrics concern human relationships, meaning social relations between subjects (man-woman, man-work, man-death), so a total point of view of problems we have all days. At this point of view all our lyrics could adapt to all people, precisely because concern all of them, indiscriminately.
WOM – Should we expect so long for the fourth album as we waited for the third?
Davide – We hope not, of course! At this time we're recovering a bond and a cohesion that give us high hopes about the future. Clearly, no one foresees what will happen and we don't know it, but our best interest now is to promote as well WOF and have some live shows. Then to write some new stuff.
WOM – About live activity, are there any plans to tour in and out of your country?
Davide – We have already planned a little Italian tour. In an upcoming show, on June 3rd, we'll play with one of the greatest Italian Extreme bands, Buffalo Grillz. We count on to add more shows and maybe to plan an European tour, to increase our exposure. Maybe we'll come to Portugal, who knows? It's a country where I've never been, but I'd love to visit, one day.
Additional thanks to Daniele for the translation

http://www.nofuck.it
Support World Of Metal