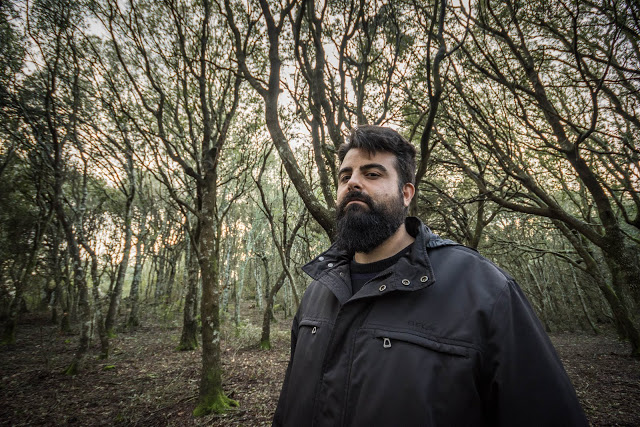 Valerio Marras
is a well known musician in the italian scene and his latest project is
S A R R A M
, an unexpected experimental work that has an ambient and drone feel, but goes beyond what we are used to hear in this genre. An mesmerizing work (
reviewed here
) that has a long and powerful effect and intrigued us enough to go and have a kind talk with
Valerio
.
WOM – Congratulations for this new project. Quite unusual but really, really good. What was the main motivation for S A R R A M?
Valerio – Thank you very much. I honestly don't know if there was a real motivation; I spent many years thinking about releasing something as a solo and finally one day I asked to Nicola Olla (Blacktooth Collective) to play REC and start to mix something very sharp in my mind but that I never played before. That thing became "A Bolu, in C".
WOM – It's composed by a single track, with more than thirty minutes, with lots of nuances. Was it recorded in one single take?
V. – At first we tried to split it in a few takes to have a better control over the parts, but I realized soon that I was missing the point about what this project means to me (to be loose and free) – so we decided to start again and record on the fly. Nicola has been really important during the entire process, he turned knobs up and down when needed, avoiding peaks and giving significance to every small detail.
WOM – You didn't use any kind of keys or synths, but the sound is really eerie. You've must used some kind of footswitchs, right? What was the equipment used in this recording?
V. – No synths or percussions were used during the recording session, the setup isnt too different from the gear I currently use with my bands Thank U For Smoking and Charun. the guitar is a Fender Thinline (de) tuned in C drop with some stompboxes: 2 loop stations, 3 delays, 2 reverbs, an octaver, an overdrive and a tube preamp. That's it. We used a Kemper Profiler Powerhead along with a few M Britt profiles: a '56 Twin and a Silverface for most of parts and a Victor profile for some creamy lead crazy tones. Everything straight to a M-Audio interface and ProTools.
WOM – What we can feel during "A Bolu In C." is that there's an unique atmosphere, as an impromptu. Do you consider playing it live?
V. – Yeah, sure. The concert is fundamental in SARRAM project! I'll be on tour from February 22nd to March 5th for 16 shows in 12 days with my buddy The Star Pillow, we will play in six countries this time and honestly I'm very excited to travel Europe as a solo performer for the first time.
WOM – The title is quite enigmatic – "A Bolu In C." – What does it mean?
V. – I'm from Sardinia, a small Island in the Mediterranean Sea. It's a place full of history and traditions and very distant from Italy in terms of thoughts, culture and attitude. "A Bolu" is a way of saying in Sardinian language and it is related to the extemporization of verses and rhymes but also is really connected with the flight. Diego from Talk About Records is an Ethnomusicologist and he's a local traditional music enthusiast; we talked a lot about Sardinian poetry and other traditional things… and we later felt "A Bolu" as a tribute to all of these lovely aspects of our Island.
WOM – Do you have further plans for S A R R A M?
V. – Honestly I'm not thinking about future plans, I did everything in a rush during the last weeks, also because only a bunch of selected people knew about the project before "A Bolu" was out. Next to the forthcoming European tour there will be another one with Thank U For Smoking , performing a new release; later on Charun will start the recording sessions of a new album and then I will prehaps have time to think about what comes next for SARRAM! Who knows? I could record a summer hit in spring to let everyone dance to it on the beaches… joking.