Interview – Wolf's Hunger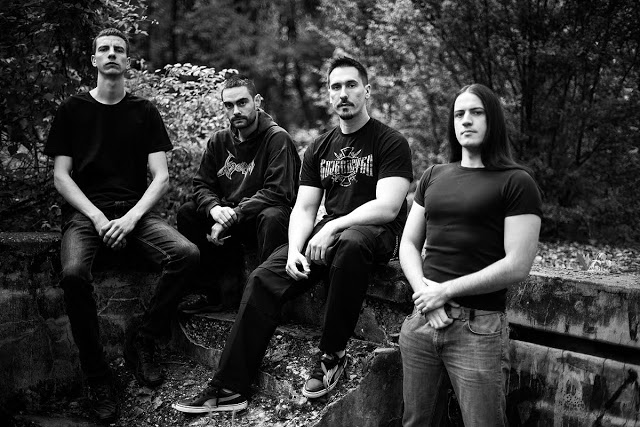 Serbia might not be the most expected place for a metal band but that doesn't stop
Wolf's Hunger
releasing two great albums. "Bez'te Zivi Vracaju Se Mrtvi" was their latest (
you can read the review here
), a great thrash offering that made us want to know more about them. This was what we got
WOM – Thank you so much for this interview. Let me congratulate you for your excelent
second album, "Bež'te živi vraćaju se mrtvi". How do you feel about it?
Wolf's Hunger – Hey mate, thanks a lot for that kind of words! Well, while we were recording "Bež'te živi vraćaju se mrtvi" we had tons of different problems but now when it's all done we are more than satisfied. We got high marks in many different zines and reaction from audience is great. So it was worth of sacrificing.
WOM – This second album is released nine years after the debut. You guys broke up in 2007, and returned in 2009. Can you tell us what happened?
W.H – Yes you are right, we split up in 2007. shortly after we released our debut album "Osveta u krvi" via Grom records. Well, honestly it's little bit hard to tell about things that happened. Let's just say that there were some problems in a band combined with bad circumstances so we thought it's best solution to split up. We cannot say more than that…
WOM – How do you see Wolf's Hunger nowadays? Stronger than ever?
W.H – "Bež'te živi vraćaju se mrtvi" is definitively couple of steps forward in our development, but still there is space for improvement. We still have to put much more effort to be stronger than ever. All these positive comments and reviews are huge motive for us to work harder. Current line up of the band is: Caslav(bass/vocals), Dovla(guitars), Igor(guitars/vocals) and Ivan(drummer).
WOM – You told us in a previous conversation that your concept is about slavic history and mythology. What is more important for you? The lyrics and message or the music?
W.H – Each part is important. If you write great music with awful lyrics than people won't respect you or will respect you less, and on the other side if you have outstanding lyrics with crappy music then no one will listen to it. Slavic mythology is important for us because it is part of our heritage. And honestly, it would be stupid that we, who were born in Serbia, are singing about samurai or vikings. That's not part of our culture and tradition. And I also think it is always interesting to learn about different cultures and nations.
WOM – Your lyrics are all in your native tongue. Don't you think that your message could reach a much wider audience if you sang in english or is it important for you to maintain the connection to your traditions and culture?
W.H – On our first demos and first full length album we had lyrics both in English and Serbian but now we are singing in Serbian only. It's easier to spread the message writing in English but for us is much easier to express our thoughts and feelings in our native language. And its probably exotic for people around the world to listen to music in non-English language. Simply, native language brings some unique atmosphere to black metal music.
WOM – What is your biggest goal?
W.H – Playing gigs in each corner of the world. We don't have dreams such as playing on big stadiums because music that we play is not something it's going to be popular or famous. We play what we love and listen to, and we have people that truly support us that's the most important thing. In this moment our biggest goal is to play abroad and currently we are working on that.
WOM – How about influences? What kind of musical influences you have?
W.H – Our influences(which we also call "holy trinity") are: Aura noir, Slayer and Darkthrone. Each band member has his own personal style: Caslav is into black/death metal, Dovla is into thrash metal, Igor is into technical death metal and Ivan is into core/death/slam metal. But biggest influences are, beside mentioned trinity, bands like Enslaved, Mayhem, Burzum, Gorgoroth, Ritam nereda…
WOM – How's the serbian scene? Good bands you can recommend?
W.H – Serbian metal bands are not so known in rest of the world but we have some really killer acts worth of attention of any true underground freak. The best known bands are The Stone (black metal) and Infest (thrash/death metal) – these bands are often playing in rest of the Europe and they have strong fan base. Also we would recommend Putrid blood (thrash/HC/metal), Kolac (old school black metal), Redenik (necro/crossover metal), Svartgren (black metal)…
WOM – Any plans for touring for these sides of Europe (Portugal)?
W.H – Currently we are working on that to play gigs in Eastern Europe, hope we'll soon have some dates to reveal. Of course we would like to play Portugal! Anyone who is interested to organize us gig should write us at: wolfshungerserbia@gmail.com.
WOM – Thank you once again for the interview. I wish you guys success for the future. Any last words?
W.H – First of all thanks a lot for supporting Wolf's Hunger with this interview! We really appreciate it! For all the people out there we invite you to check out our second full length album "Bež'te živi vraćaju se mrtvi" released on September 9th via Symbol of Domination. Metal up
Contacts
Line up:
Caslav (bass/vocals)
Dovla (guitars)
Igor (guitars/vocals)
Ivan (drums)