Rapheumets Well Premiere Video 'Enders Door'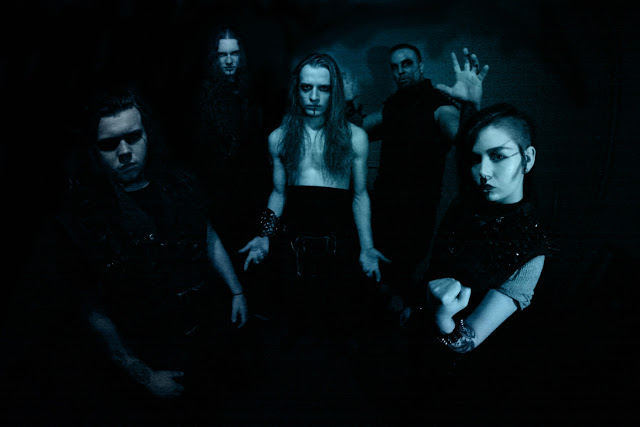 Hickory, N.C. sci-fi metal band Rapheumets Well (Ra-few-mets) will be releasing their next full length 'Enders Door' via Test Your Metal Records on May 26th. Once again they will being bring forth a voyage enriched with lore and a sound that is a complex mix of classical orchestrations, cosmic synths, and extreme metal to portray the epics of parallel worlds.
The synopsis of this album is in the fifth era of the Avomenian Empire, amidst the planetary ruins of Vaath, a rogue traveler would discover an artifact that would forever change his place in the cosmos.Upon arriving to retrieve the artifact, it became apparent that Eryos's brother Nathyiem would never make it to their arranged meeting point. In departing from the planet Vaath, Eryos received a distress signal from his brother's ship, coming from an uncharted planet. Upon arriving, he found a odd world inhabited by a mysterious species called the Dreth led by lecherous matriarch named Eishar. It is here that he would uncover a faced-door, an inter-dimensional gateway to the Ender.
Rapheumets Well just premiered their new music video for the album's first single and title track.
Drummer Joshua Nassaru Ward comments:
"The song "Enders Door" highlights our albums mission to present this odd story in which the traveler, following his brothers distress beacon from what seems to be a downed ship, finds himself in a very uncompromising situation with a inter-dimensional being and the agenda of a lecherous female named Eishar. The video is completely self produced and with the help of David "King" Johnson, we tried to capture elements of our story while presenting the technicality and emotion of our music. In many ways we are trying to convey issues we all deal with through our music such as confusion, anxiety, fear, and revelation in seeking truth. There is symbolism here of course; in our pursuits to find ourselves we must brave trials that permit our weakness to manifest to find tangible truth."
You can watct 'Ender's Door' below