Rock dos Romanos 2018 realiza-se no dia 06.10
A primeira edição (de muitas) do festival Rock dos Romanos vai ter lugar no próximo dia 6 de Outubro em Condeixa- a-Velha (distrito de Coimbra).  Esta primeira edição do evento irá contar com a presença das bandas The Temple, Henriette B, Tales For The Unspoken, The Dukes of Speed, Shady Gringos, Secret Chord e Lulas Belhas.
Os bilhetes têm o preço de 6 euros em pré-venda até ao dia 30 de Setembro, e podem ser adquiridos em rockdosromanos@gmail.com . No dia os bilhetes terão o preço de 8 euros. O evento abre portas aos visitantes pelas 17:00 e a primeira banda entra em palco às 18:20 em ponto!
Horários:
18:20 – Lulas Belhas
19:10 – Secret Chord
20:00 – Shady Gringos
21:05 – The Dukes of Speed
22:50 – Tales For The Unspoken
23:55 – Henriette B
01:00 – The Temple
Mapa do recinto: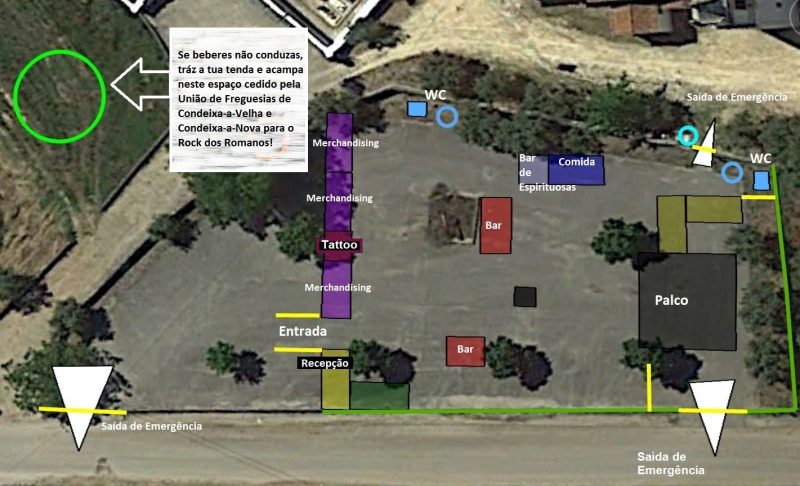 Para mais informações, consultem a página do facebook e respectivo evento. www.facebook.com/rockdosromanos
---
[quadsvi id=1]

Support World Of Metal
Become a Patron!
New WOM Android APP – Read All Our Issues for free!
World Of Metal Magazine – Out Now
Download It Here!