Russian Circles announce "Live At Dunk! Fest 2016 LP"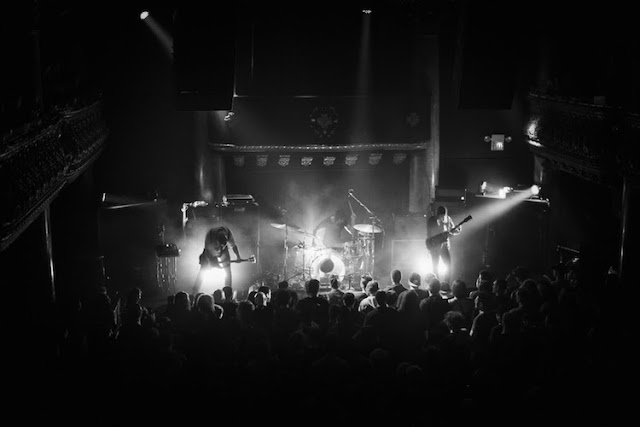 Last year, Chicago power trio
Russian Circles
unleashed a riling live set packed with beloved fan favorites and deep cuts at Belgium's
Dunk! Fest
. Now immortalized with a nine-song live LP mixed by Dallas Thomas (
Pelican
) and mastered by
Collin Jordan
(
Wovenhand
,
Yob
), Live At Dunk! Fest 2016 impeccably captures the sonic magnitude and aural drama of a Russian Circles' live performance.
Check out a promo clip from the album on YouTube
and look for
"
Live At Dunk! Fest 2016″ to be released on April 7th digitally, on limited vinyl format April 14th; 1,000 total LP copies worldwide, with 350 copies available via
Russian Circles
' webstore which
can be pre-ordered here
.
After over a decade in existence, Russian Circles have maintained a precarious creative process that has resulted in a storied and dazzling catalog exploring elements ranging from harrowing gloom and cinematic majesty to primitive bludgeoning and morose minimalism. Whereas many bands in the instrumental world are content to cruise with the lush crescendos and washed-out timbres laid out by their predecessors, Russian Circles persevere in their quest to conjure multi-dimensional, textural narratives. Pulling tracks from 2008's metalloid-fueled Station, 2016's fierce and freewheeling Guidance, and every era in between, Live At Dunk! Fest 2016 ensnares the broad tonal palette and wide array of emotional motifs that have made Russian Circles a musical stalwart.
"Live At Dunk! Fest 2016" is due out April 7th on digital and vinyl formats. Shortly after the completion of their current European headline tour (with Cloakroom in tow), Russian Circles will be touring in North America alongside Mastodon and Eagles of Death Metal in support of the album, continuing the band's non-stop road schedule since last year's release of their critically-acclaimed LP Guidance. See all tour dates below and look for more news soon.
Russian Circles, Live At Dunk! Fest 2016 track listing:
1. Deficit
2. 309
3. Afrika
4. Harper Lewis
5. Geneva
6. 1777
7. Vorel
8. Mladek
9. Youngblood