Snakefarm Records announces global launch with signing of Tyler Bryant & The Shakedown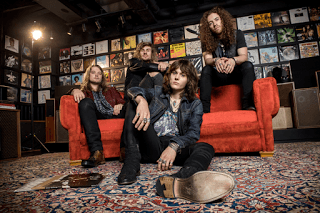 SNAKEFARM RECORDS is delighted to confirm Tyler Bryant And The Shakedown as the first act to join the label following a freshly-inked worldwide deal.
Housed within the global infrastructure of Spinefarm Records (a UMG label), the Snakefarm brand will provide a supportive home for international artists, both established and new, from the increasingly buoyant roots rock world – music based on authenticity and emotion, under-pinned by a core set of values and beliefs.
In this respect, Nashville-based Tyler Bryant and The Shakedown – fresh from guesting with Guns n' Roses – stand as a flagship representation, ticking all of the available boxes.
Comprised of Caleb Crosby on drums, Graham Whitford on guitar, Noah Denney on bass and backing vocals, and Texas-born Tyler on guitar and vocals, the quartet released six-track EP 'The Wayside' in 2015, produced by Grammy Award-winner Vance Powell and released via Spinefarm in the UK and Europe. This six-track outing made it clear that here was a group with the skill and the knowledge to draw from the glories of the past whilst simultaneously keeping a clear eye on the future, mixing history with a youthful, energetic heartbeat.
Due to be released on November 3rd, 2017, the new self-titled TBSD album (and debut Snakefarm release) was crafted in Nashville by the band and mixed by producer / engineer / multi-instrumentalist John Fields (Soul Asylum, Paul Westerberg), featuring a brand new set of infectious and varied songs, some of which – including epic rocker 'Aftershock' – have become staples of the live set.
In 2016, TBSD joined friends and Nashville neighbors The Cadillac Three for a tour of the UK, sharing the stage with the headliners on a nightly basis – the start of an on-the-road, 'round-the-world adventure that has seen them guesting with some of rock's foremost legends (AC/DC, Aerosmith, Deep Purple, G n' R), appearing at the Download and Ramblin' Man festivals in the UK, and generally becoming as comfortable projecting their passion into stadiums as rockin' out in theaters and clubs…
It's been a whirlwind run that is set to continue through 2017-18, with headline shows and festivals already announced, and being added to, on both sides of the Atlantic. However, it's the new Snakefarm Records release that's first on the agenda.
Says Tyler Bryant & The Shakedown:-
"We're beyond excited to be teaming up with Snakefarm to release our new self-titled album. We've become close with their team, and have learned that their passion for real music is not rivalled by many. That's something we both share. Together, we're gonna take our brand of rock 'n' roll to as many people as we possibly can."
Support World Of Metal