Sonicblast Fest – Cartaz Fechado Para A Próxima Edição
O SonicBlast Fest ficou com o cartaz encerrado com os My Sleeping Karma, The Atomic Bitchwax, El Perro, Moura, Madmess, Lunavieja, Mr. Miyagi e Pledge naquela que será a edição de comemoração do décimo aniversário. A edição só começa ofcialmente no dia 11 de Agosto, prolongando-se até dia 13, mas no dia 10 ainda há uma warm up party no dia 10 com os Temple Fang, El Perro, ShiMa e Misleading. As novidades também não ficaram por aqui, com os All Them Witches a cancelarem a sua participação já que toda a digressão europeia foi cancelada devido a circunstâncias imprevistas.
O restante cartaz é composto por Electric Wizard, Witch, Mdou Moctar, Orange Goblin, Weedeater, Pentagram, Conan, 1000Mods, Witch, Stöner, Nebula, Meatbodies, The Machine, King Buffalo, Slift, Pigs, Slomosa, The Devil and the Almighty Blues, Kaleidobolt, The Black Wizards, Frankie and the Witch Fingers, Deathchant, Psychlona, Mythic Sunship, Tia Carrera, Toxic Shock, Green Lung, Bala, The Goners, Rosy Finch, Samavayo, 24/7 Diva Heaven, We Hunt Buffalo e El Altar del Holocausto.
Este será também o primeiro ano que vai decorrer na nova localização, Praia da Duna dos Caldeirões em Âncora.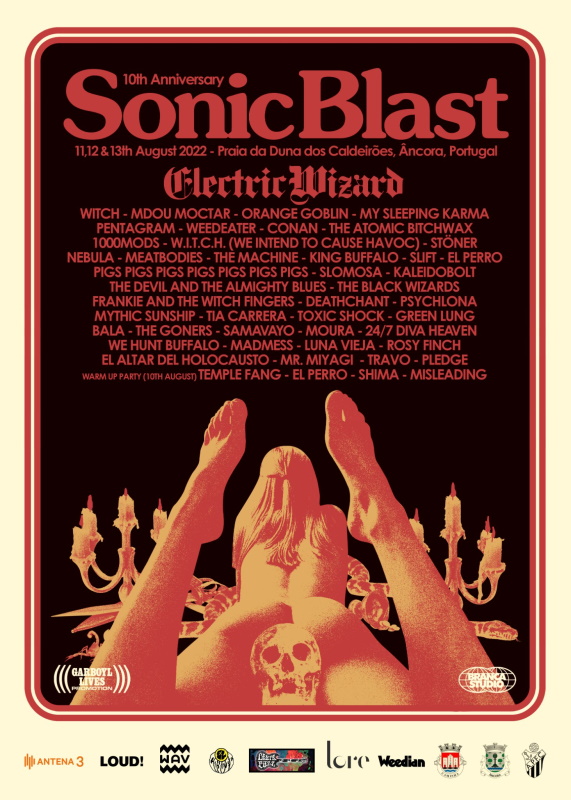 Support World Of Metal
Become a Patron!