VOA 2019: As Últimas Confirmações – Arch Enemy e Thormenthor
ARCH ENEMY são a mais recente confirmação internacional na decima edição do VOA – HEAVY ROCK FESTIVAL, que se realiza este ano no Estádio do Restelo, em Lisboa. O conceituado projeto sueco junta-se aos já anunciados SLIPKNOT e SLAYER, cabeças de cartaz do evento nos dias 4 e 5 de Julho, respetivamente, assim como aos LAMB OF GOD, TRIVIUM, GOJIRA, WHILE SHE SLEEPS e CANE HILL. Depois do memorável concerto em 2012, quando o festival ainda se realizava em Vagos, a banda regressa agora com Alissa White-Gluz atrás do microfone, para apresentar o seu mais recente trabalho, «Covered In Blood», uma explosiva coleção de versões que sucedeu ao muito aplaudido «Will To Power», de 2017.
VOA – HEAVY ROCK FESTIVAL contará ainda com alguns dos maiores nomes do metal português como MOONSPELL, WAKO e RASGO, aos quais se juntam agora THORMENTHOR num inesperado regresso aos palcos com a formação que gravou a estreia «Abstract Divinity». Um muito desejado retorno, por parte de um clássico de culto do underground dos anos 90, que vai certamente tornar estes dois dias de concertos ainda mais inesquecíveis.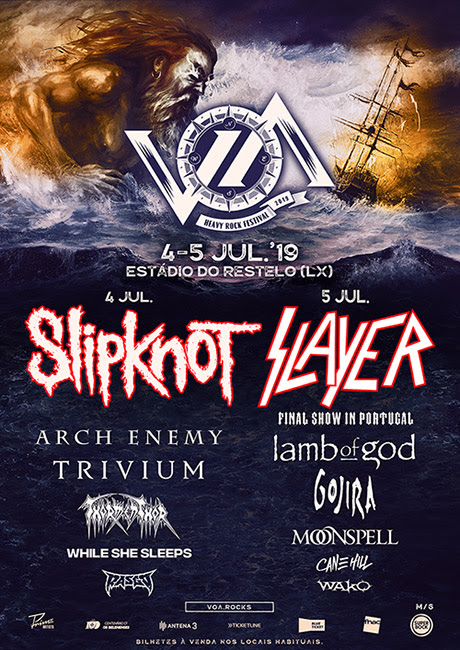 ---

Support World Of Metal
Become a Patron!
New WOM Android APP – Read All Our Issues for free!
World Of Metal Magazine – Out Now
Download It Here!