Vulture Industries premiere clip for 'Something Vile' featuring a dinosaur in Bergen
VULTURE INDUSTRIES are premiering the third song taken from their forthcoming album, 'Stranger Times', which has been scheduled for release on September 22nd.


The track "Something Vile" is presented in the form of a monstrous video, which has been created by renowned Romanian visual artist Costin Chioreanu and is now streaming below:
VULTURE INDUSTRIES frontman Bjørnar E. Nilsen comments on the new video:


"The track 'Something Vile' was a bit of a tough nut to crack, but in the end it turned into one of the most immediate songs on our new album. 'Something Vile' features the first ever lead vocals in VULTURE INDUSTRIES by another band member, namely guitarist Eivind, adding an extra dimension to this song.
The basic idea for the video was conceived on a sleepless night three day before the filming was scheduled to start. It tuned out extremely hard to get hold of the correct outfit on such a short notice. We finally got hold of one in a child's size, which forced us to change the designated lead actor for a smaller one who would fit into the costume. Luckily, my girlfriend was up for the task and turned out to be perfectly suited for the role. Enjoy!"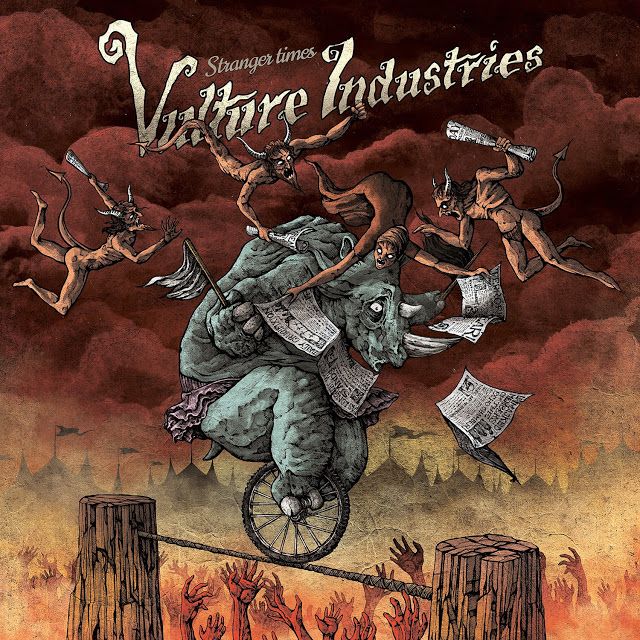 1. Tales of Woe (4:37)
2. As the World Burns (
5:22
)
6. My Body, My Blood (
2:27
)
7. Gentle Touch of a Killer (
5:03
)
8. Screaming Reflections (
5:32
)
9. Midnight Draws Near (
5:20
)
Support World Of Metal