WOM Features – Allegaeon / Ketzer / Dying Gorgeous Lies
Allegaeon launches video for new single, "Extremophiles (B)"
On April 19th, Allegaeon will release their new album, Apoptosis, via Metal Blade Records. A near-perfect symbiosis of technical, progressive, and melodic death metal, Apoptosis is a record that is as crushingly heavy as it is inventive, lithe and intelligent, and marks a significant leap forward in the band's songwriting. Watch the video below for the new single, "Extremophiles (B)" (directed by Vince Edwards):
The video for the first single, "Stellar Tidal Disruption" (directed by Robert Graves //ashadowbeyond.com) is taken from Apoptosis. You can pre-order the album at : metalblade.com/allegaeon
---
Ketzer launches new single "The Wind Brings Them Horses"
n April 12th, German extreme metallers Ketzer will release their fourth full-length, Cloud Collider, via Metal Blade Records.
Looking on Ketzer's musical history, change is what has always defined their sound. From thrashing riffs to atmospheric blackened tunes, Ketzer is a band that has always aimed to defy genres. So what can we expect on Cloud Collider? Nothing more than a ride on a storm cloud, followed by a soft breeze in your face and, finally, a cleansing rainfall. Ketzer's fourth effort will surprise many as a shift into yet another direction, combining many of the band's essential trademarks and carrying them one step further: Raging drum beats, harsh and powerfully thrashing riffs, as well as epic melodies that will haunt you long after the last tone has faded away. After years of intense work, Ketzer have created an album that can only be described as a milestone in their career and a clean break from all expectations: this album is a storm.
For three years now, Ketzer has been working on something new, and the result is something new indeed: somehow linking all trademarks essential to the sound of Ketzer, now and then, but taking it all one big step further. These new tunes might well be the strongest Ketzer songs to date. Recorded at Markus Stock's infamous "Klangschmiede Studio E" as well as Laurent Teubls "Sculpt Sound Studios" in autumn 2018, the suitable visual expression for this new effort has been found by cover artist Adam Burke and illustrator Johannes Stahl.
Ketzer checked in with the following comment about Cloud Collider: "Lately, we have been possessed by storms. First there is a breeze, then the sky darkens: A sense of electric energy starts to fill the air. A sense of sheer power, building up, waiting to erupt. 'Cloud Collider' will strike you like a force of nature. When recording an album after months of hard work, blood and sweat, it is always our greatest wish, accompanied by the most terrifying fears, that the recordings will be able to 'catch' the songs and their certain, special spark. When we hear the final result for the first time, we have to think: 'THIS is how the next chapter must sound'. Only then, we can be satisfied. With all the more pride and joy we can now say about 'Cloud Collider', that both is the case, and it is without a single doubt! THIS is how Ketzer has to sound in 2019! It is new and it is old and it is everything. It is fast and it is slow and we just can't wait to bring these songs to the stage. This album is a piece of work that we feel embodies all aspects that stand and stood for the sound of Ketzer now and then. An album that manages to still go one step further to form something new!"
For a preview of Cloud Collider, the album's new single, "The Wind Brings Them Horses", can now be checked out below:
Ketzer checked in with the following comment: "Prepare yourself for the second single of our new album 'Cloud Collider'! Winds may turn into Storms. And today 'the wind brings them horses'!"
For another preview of the album, the first single, "No Stories Left" (featuring a special guest appearance by the legendary Proscriptor McGovern of Absu fame), can be heard at:metalblade.com/ketzer – where you can pre-order Cloud Collider in the following formats: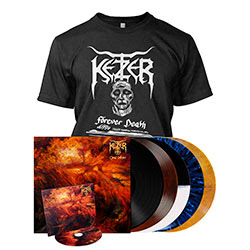 –ltd. digipak-CD
–180g black vinyl (EU exclusive)
–red-brown marbled vinyl (EU exclusive – limited to 200 copies)
–black/white split colour vinyl (EU exclusive – limited to 200 copies)
–blue w/white / red /black splattered vinyl (EU exclusive – limited to 100 copies)
–amber marbled vinyl (EU exclusive – limited to 100 copies)
Cloud Collider track-listing:
1. The Machine
2. Keine Angst
3. Walls
4. Cloud Collider
5. Forever Death
6. The Wind Brings Them Horses
7. No Stories Left
8. This Knife Won't Stay Clean Today
9. (The Taste of) Rust and Bone
10. Light Dies Last
---
DYING GORGEOUS LIES release 360° VR video for new single
For their new single "From The Ashes/Hellfire", DYING GORGEOUS LIES and their Wasteland Clan shot a very special 360° VR video, which is now available for your viewing pleasure on
The band comments: "Find the classic story of Romeo and Juliet set in a post-apocalyptic scenario, where two antagonizing tribes try to kill the young love. Since this is a VR video YOU play the role of Romeo, so take a look around you and discover what's going on!"
You'll be able to change the viewing angle and explore the video on your desktop computer if you place the cursor in the video, click and hold the left mouse button and drag the cursor. Do the same with your finger instead in the official YouTube app.
The song is taken from the upcoming album "The Hunter And The Prey" – mixed and mastered by Charles Greywolf – that will be released next Friday on Massacre Records. With the addition of keyboardist/piano player Jay'Na D., the new songs turned out to be more open and melodic without losing its heaviness. And Liz's voice is even more brutal and versatile than before!
DYING GORGEOUS LIES' new album "The Hunter And The Prey" will be available as CD Digipak and digitally! Get it here » https://lnk.to/dglhunterprey
The band recently announced dates for the upcoming The Hunter And The Prey Tour 2019 that are available below.
[Note: 360° VR videos are best watched in the latest version of Chrome, Opera, Firefox, MS Edge or the YT app. Please note that the video may take longer to load.]
---

Support World Of Metal
Become a Patron!
New WOM Android APP – Read All Our Issues for free!
World Of Metal Magazine – Out Now
Download It Here!