WOM Features – Asfixia Social Releases New Single "They Sold Your Soul" During European Festivals Run
Photo by Gilbert Spaceh
"They Sold Your Soul" – Asfixia Social's new song is out now with an accompanying video which was recorded during the band's 2022 European tour, gathering the heaviness of their rock and bowing to samba! Below you can watch the video:
The Brazilian crossover collective have just started their Planet is Alive tour, that has already reached England, France, Germany, Netherlands, and Scotland. In partnership with French label Mass Prod and the Dutch Agency 12, the group recorded the new single, in between the 21 gigs of the international tour.
The video which was shot during their two of their festival shows namely "Chauffer dans la Noirceur" (France 14/July) and "Haltpop" (Netherlands – 17/July), captures the vibe of the crowd and the incredible energy the band brings to each performance.
Musically inspired by their Brazilian roots, the group uses and abuses rock, rap, and samba to form a sound all their own. They Sold Your Soul marks an important moment for Asfixia Social, which for the first time recorded a song 100% in English, seeking to break down communication barriers and interact with global issues and new audiences. The band ends the tour on August 6th at the Rebellion Festival, one of the biggest rock festivals in the UK, held in Blackpool, northern England. After that they are back for shows in Brazil and will be announcing new dates for a 2023 European Tour soon!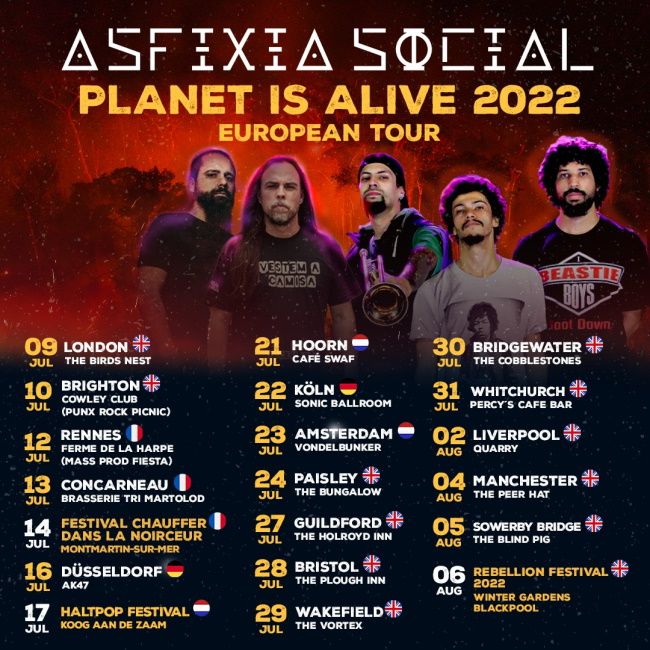 Erik Kaneda – Vocals, trumpet
Marcelo Sampaio and Rafael Santos – Guitars and backing vocals
Julio Pires – Bass
Rodrigo Silva – Drums
William Fialho and Rodrigo Repique – Percussion
Website // Facebook // Instagram
---
Support World Of Metal
Become a Patron!