WOM Features – Bleeding Gods / Vandroya / I Klatus
BLEEDING GODS first single / music video
Recently, Nuclear Blast proudly announced the signing of Dutch epic death/black metallers BLEEDING GODS and the release of their upcoming album "Dodekathlon". This new record will be a concept album and is scheduled to be released on January 12th, 2018! Today, the band presents their first single with it's corresponding music video to the song 'From Feast To Beast'. Watch it here:
Main man and guitarist Ramon Ploeg comments the song and the video, directed by Sebastiaan Spijker: "We are really proud to launch our first single 'From Feast To Beast' from the new album »Dodekathlon« upon you! The track is about catching the Erymanthian Boar and bring it back alive to King Eurystheus. This was Hercules' 4th labour of the series of 12 episodes concerning his penance for slaying his son, daughter and wife Megara (more info see below). Sebastiaan did an awesome job directing the video, which only shows some band shots. It is a real joy to work with him and he has a good and fast communication, which we like. We hope you will enjoy the video as much as we do!"
They also start the pre-order for »Dodekathlon« today!
Get your physical copy, here: http://nblast.de/BleedingGodsDodeNB
Pre-order »Dodekathlon« digitally and receive 'From Feast To Beast' instantly or stream the track: http://nblast.de/BleedingGodsDigital
Listen in the NB Novelties Playlist: http://sptfy.com/2zZF
Additionally, BLEEDING GODS today unveil the album's track listing (see below) and therefore also more insights on the album concept! The twelve songs represent the twelve labours of Hercules, the greatest of the ancient Greek heroes, who had to serve his cousin king Eurystheus for twelve years and to perform these twelve labours to concern a penance for his terrible actions…. But more info on the album concept will follow soon!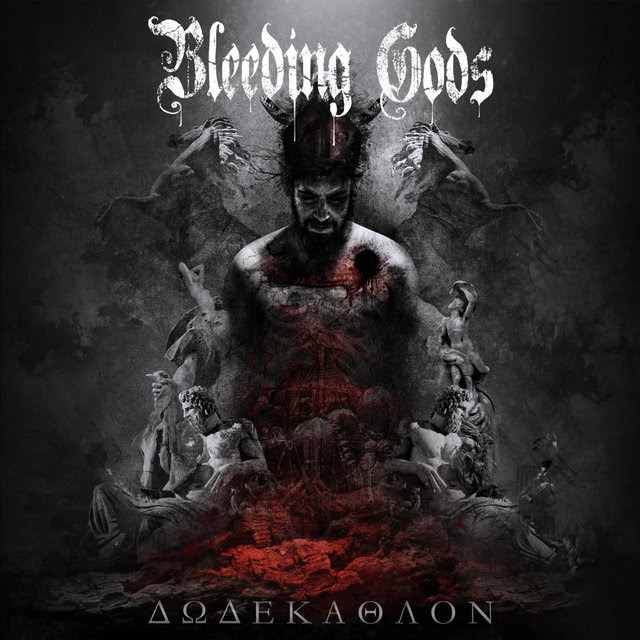 "Dodekathlon" – track listing:
01. Bloodguilt (Nemean Lion)
02. Multiple Decapitation (Lernaean Hydra)
03. Beloved by Artemis (Ceryneian Hind)
04. From Feast To Beast (Erymanthian Boar)
05. Inhuman Humiliation (Augean Stables)
06. Birds Of Hate (Stymphalian Birds)
07. Saviour Of Crete (Cretan Bull)
08. Tyrannical Blood (Mares Of Diomedes)
09. Seeds Of Distrust (Belt Of Hippolyta)
10. Tripled Anger (Cattle Of Geryon)
11. Hera's Orchard (Apples Of The Hesperides)
12. Hound Of Hell (Cerberus)
The album was recorded at Pitch Note Productions and Hal 5 Studio; mixed and mastered at Soundlodge Studio. The cover artwork (see above) was created by Dimitris Tzortzis from Immensa Artis.
The band was founded in 2012 when guitarist Ramon Ploeg started to write an album after he had left the Dutch death metal band HOUWITSER. In 2013, BLEEDING GODS recorded their 4-track promo entitled »Blood Symphony«. The lyrical theme was about ancient gods and history like the Mayans, ancient Egypt and Greek gods. In 2014, BLEEDING GODS signed for their debut album »Shepherd Of Souls« with Punishment 18 Records and got worldwide awesome reviews, even today!
One year later, the turning point was there: New line up, new songs, new concept, new album! BLEEDING GODS renewed their line up and are now stronger than ever! After their debut »Shepherd Of Souls«, the band knows exactly which band they want to be and consequently Ramon Ploeg (Guitars), Mark Huisman (Vocals), Rutger Van Noordenburg (Guitars), Gea Mulder (Bass & Backing Vocals) and Daan Klemann (Drums) created a brand-new concept. Let's get ready for »Dodekathlon«!
VANDROYA: "THE PATH TO THE ENDLESS FALL" MUSIC VIDEO RELEASED
The female fronted progressive power metal band VANDROYA just released a music video for "The Path To The Endless Fall", the second single from their new album "Beyond The Human Mind". The album is available now through Inner Wound Recordings in Europe and North America and through Bickee Music in Japan.  You can watch the vide below:
With a more evident progressive influence but without giving up the weight and virtuosity of power metal, the new album brings a more mature band, a more balanced sound and reflects the musicians technical and artistic evolution since the debut album "One".  The album concept revolves around the journey we all go through in search of fullness and inner peace. The album artwork is created by Felipe Machado Franco [Blind Guardian, Rhapsody of Fire, Iced Earth].  Led by vocalist Daísa Munhoz, Vandroya are ready to take the next step and make a mark in the metal scene with "Beyond The Human Mind".
Vandroya online 
Website: www.vandroya.com
Facebook: www.facebook.com/vandroya
Inner Wound Recordings online 
Website: http://www.innerwound.com
Facebook: http://www.facebook.com/innerwoundrecordings
I KLATUS Release "Moment of Devastation" Official Video
Support World Of Metal
Become a Patron!
New WOM Android APP – Read All Our Issues for free!
World Of Metal Magazine – Out Now
Download It Here!