WOM Features – Dogma – "Deus Assassino" – Anúncio de Digressão Ibérica
Os Dogma já apontaram a data de lançamento para o novo álbum "Malleys Maleficarvm" e o primeiro avanço é "Deus Assassino" que podem ouvir abaixo:
Gravado e produzido por Fernando Matias no Pentagon Audio Manufactures studios, é já assumido pela banda como "o seu melhor trabalho de estúdio até à data". Já o vídeo foi gravado por José Dinis (Dollar Llama), com imagens captadas na Lagoa de Albufeira e tem como participação especial, Patrícia Gomes.
Em cooperação com a promotora Notredame Productions a banda irá promover o seu trabalho numa pequena tour ibérica com o apoio da World Of Metal:
12.09 – Lisboa, RCA Club
26.09 – Porto, Metalpoint
03.10 – Faro, ARCM Bar
16.10 – Alenquer, Side B Rocks
TBC.10 – Leiria, TBA
30.10 – Almada, Cine-Incrível Alma Danada
12.12 – Vigo/Espanha, Transsylvania
TBC.12 – Madrid/Espanha, TBA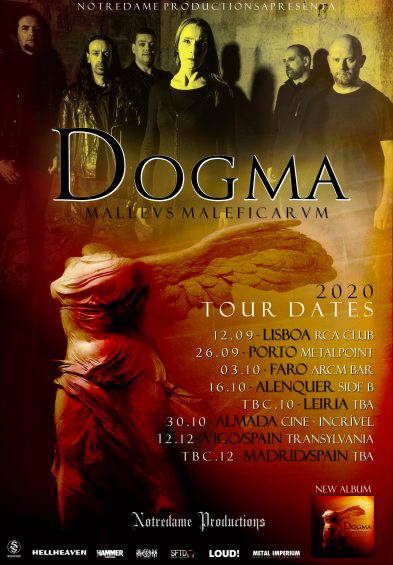 ---
Support World Of Metal
Become a Patron!