WOM Features – Formalist / Thy Catafalque / Blood Of The Wolf
FORMALIST, the first single is online now
The Italian superband FORMALIST (feat. members of Forgotten Tomb, Viscera///, and Malasangre), has finally shared with the public its first single titled "Arson". The track, has been taken from the band's upcoming debut "No One Will Shine Anymore, due to be released on March this year via Wooaaargh (Germany), Toten Schwan Records (Italy), and Third I Rex (UK). For all supporters of the heaviest sludge, the most unconventional post metal, and music extremism, here is a band which has found a fresh formula by mixing genres and influences daring through uncommon solutions and real attitude.
Thy Catafalque reveal first track and details of new album
THY CATAFALQUE 
are unveiling the first brilliant track taken from their forthcoming new masterpiece, 'Geometria'. The album is scheduled for release on
May 4th, 2018
.  The Hungarian multi-instrumentalist is now streaming "Szamojéd freskó" below:
Mastermind Tamás Kátai comments: "THY CATAFALQUE started its course 20 years ago. This is the eighth album and the fourth on Season of Mist. Bands rarely create their magnum opus after so many years and I do not claim that either. 'Geometria' however is playful, adventurous, dreamy, and free – probably the closest to 'Róka Hasa Rádió' in this sense. Less metal, more violins, electronica, occasional saxophone, trumpet, and fretless bass that are completed with the vocals of Martina Veronika Horváth (NULAH, NIBURTA) and Gyula Vasvári (PERIHELION) besides myself. I enjoyed the recordings immensely: full of excitement and pure adventure. This song, 'Szamojéd Freskó', which translates as 'Samoyedic Fresco' sits more on the obscure side of the spectrum. It's basically a mythical narrative of physical decomposition."
THY CATAFALQUE are furthermore releasing the artwork of 'Geometria', which has been created by Tamás Kátai himself and can be viewed together with the album details below.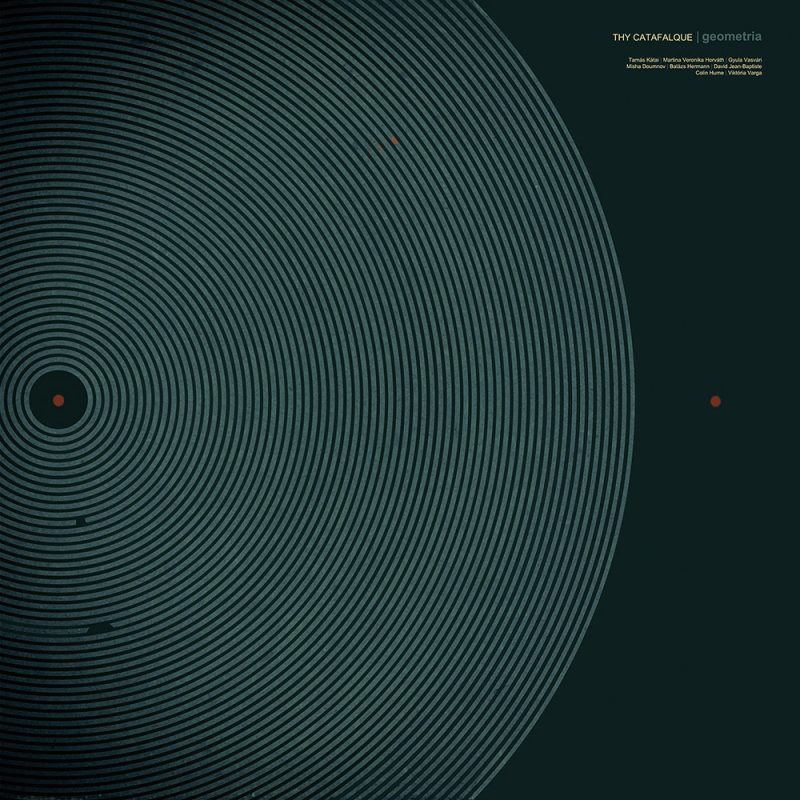 Track-list
1. Hajnali csillag (8:14)
2. Szamojéd freskó (4:02)
3. Töltés (4:26)
4. Gőte (3:11)
5. Sárember (6:42)
6. Hajó (2:36)
7. Lágyrész (4:54)
8. Sík (3:47)
9. Balra a nap (5:04)
10. Tenger, tenger (4:53)
11. Ének a búzamezőkről (8:12)
Total playing time: 56:01
Pre-sales: http://smarturl.it/ThyGeometria
---
BLOOD OF THE WOLF Unveil Promo Video for 'II: Campaign of Extermination'
Blackened Death juggernaut BLOOD OF THE WOLF has released a promo video for forthcoming album II: Campaign of Extermination, featuring the song "With Fire and a Thousand Flashing Blades." Check it out below;
BLOOD OF THE WOLF has returned to embark upon a Campaign of Extermination! 
This eight-track onslaught is a continuation of the band's critically-acclaimed 2015 debut, 
I: The Law of Retaliation
. To showcase the intensity that is 
II: Campaign of Extermination
, BLOOD OF THE WOLF has launched a stream of the album's title track. Check out "Campaign of Extermination" at 
bloodofthewolf.bandcamp.com
.
BLOOD OF THE WOLF will unleash II: Campaign of Extermination on 

April 7

.
Track listing:
1. Thunder the Drums of War
2. Campaign of Extermination
3. Beneditio Ultionis: Their Blood for my Glory
4. Erupting Volcanic Wrath
5. The Sword is my Light and my Salvation
6. Scorched Earth Ceremony
7. With Fire and a Thousand Flashing Blades
8. A Sermon of Slaughtered Foes
---
[quadsvi id=1]
Support World Of Metal
Become a Patron!
New WOM Android APP – Read All Our Issues for free!
World Of Metal Magazine – Out Now
Download It Here!