WOM Features – Hooded Menace / Usurpress / Sanguine Glacialis
Hooded Menace release third new song
HOODED MENACE are premiering the third dark masterpiece taken from their forthcoming new album, 'Ossuarium Silhouettes Unhallowed', which will hit the shops on January 26th, 2018.
The Finnish doom cultists are streaming "Sempiternal Grotesqueries" below:
HOODED MENACE mastermind Lasse Pyykkö comments: "Once all the songs for 'Ossuarium Silhouettes Unhallowed' were written, it became clear to us that 'Sempiternal Grotesqueries' was going to be the album's opening track. Unlike on our previous records, there's no intro track on the new album, because we figured that the doomy and atmospheric riff, which kicks off 'Sempiternal Grotesqueries' (and also closes the song) would work just fine as an intro to the album. It sets the mood, and as soon as you have lit the black candles, the song grows into a gripping death doom whirlwind and you're in for a ride with the Blind Dead.""
The artwork of 'Ossuarium Silhouettes Unhallowed', which has been created by Adam Burke (SÓLSTAFIR, PORTRAIT) can be viewed below.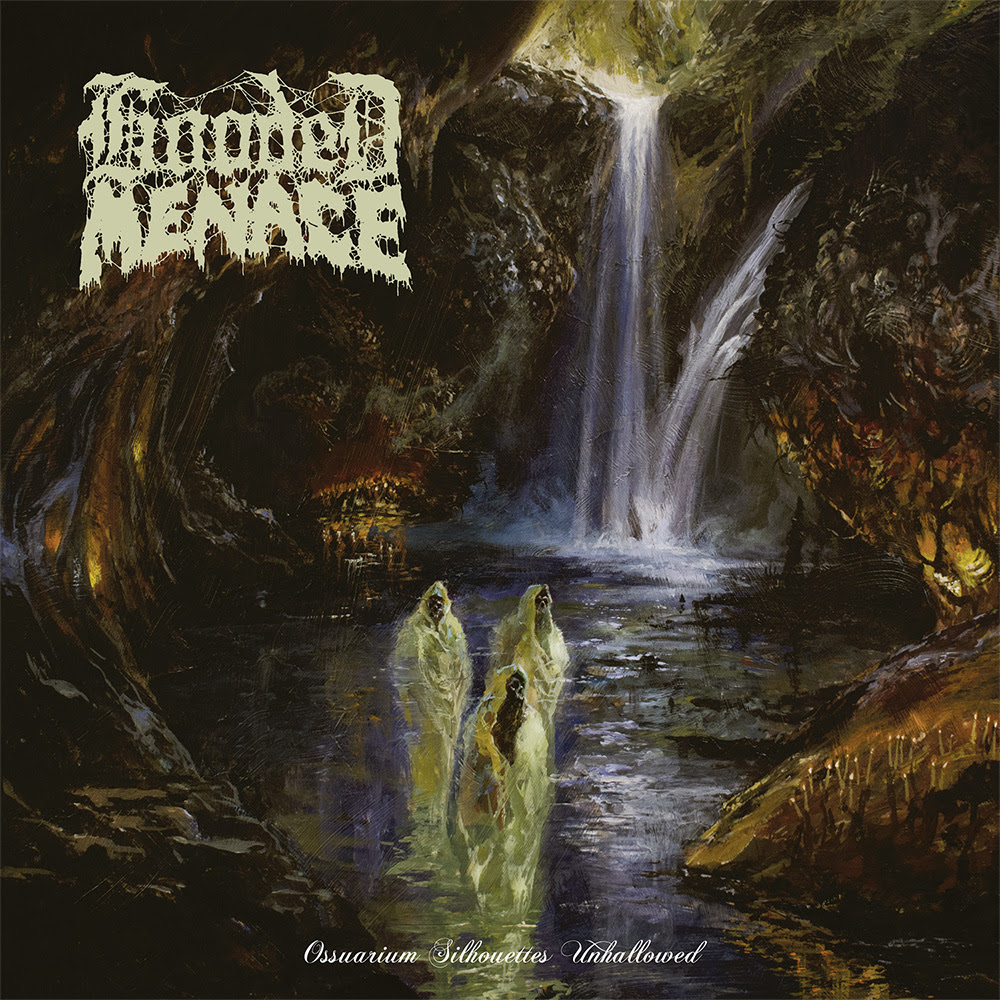 Track-list
1. Sempiternal Grotesqueries (10:38)
2. In Eerie Deliverance (7:05)
3. Cathedral of Labyrinthine Darkness (7:23)
4. Cascade of Ashes (6:43)
5. Charnel Reflections (7:48)
6. Black Moss (2:21)
Total playing time: 41:58
USURPRESS reveal new song and album details
Friday, 23rd of February 2018, will witness the release of "Interregnum", the 4th album and follow up to the ambitious concept suite "The Regal Tribe" (2016), by Swedish self proclaimed "primitive and progressive" death metallers USURPRESS. The album will be available via Agonia Records. Listen to the first single "In Books Without Pages" below:
This time, core members Stefan Pettersson (vocals, lyrics), Påhl Sundström(guitars, music) and Daniel Ekeroth (bass, music) are joined by jazz-fusion drummer Stefan Hildman and ambient/trance keyboardist Erik Sundström, and the outcome astounded even the band itself. "Interregnum" can be described as "an unholy mix between Camel and Bolt Thrower, that somehow works flawlessly", so be prepared for something quite out of the ordinary. And out of this world.
The album was recorded and mixed in the world-renowned studio Dugout Productions (Soilwork, Behemoth, In Flames, Dark Funeral, etc.) in the band's hometown of Uppsala, Sweden.
USURPRESS have made the following statement about the new album: "This time we wanted to challenge the establish dogmas and indeed our own predetermined ideas of what makes death metal sound like death metal. We have taken notes from the history of heavy guitar driven music before the times of death metal, in fact; before the times of heavy metal. We have taken inspiration from the hard rock and prog rock movements of the early seventies and put a heavy death twist on it. For those who feel like retching at the sound of this; we can assure you that this is by all means a death metal album and not some silly retro 70-ties throwback 5 years too late for the trend. It's simply Usurpress but slower, heavier and way more complex."
Sanguine Glacialis Sign With Wormholedeath And Release "Monsters" Official Video
Sanguine Glacialis have signed a distribution deal with Wormholedeath for the worldwide release of their album "Hadopelagic" (produced by Chris Donaldson of Cryptopsy).
Release date April 6th 2018. 
Without darkness there can be no light, Sanguine Glacialis have stared into the very blackest pit, and, inspired by what they saw there, forged sonic masterpieces of the darkest beauty, it is not surprising their name means 'frozen blood' in Latin!
Hailing from Montreal, Quebec, Sanguine Glacialis have shared the stage with Dark Tranquility, Omnium Gatherum, Delain, Hammerfall, Unexpect, Necronomicon and many more. The dark heart of Sanguine Glacialis is vocalist/keyboardist Maude, the sole original member left in the band. She describes their sound as 'unique, original, intense and dark'.
Maude is enthusiastic about their new songs. "We took a huge step forward with this album and fans will appreciate it much more than the previous one. Everything is better in this one in my opinion. We want to show the new direction of the band. We want to show how much we've grown and how much the band has changed between the two albums. This album is a very dark part of my life, and it's something that everybody lives in their own way, and I hope this album will help fans go through their own difficulties." Lyrically, Maude avoids the usual metal clichés. "Most of the songs are personal experiences that I wrote in the form of stories and legends."

The band released the official video for the song "Monsters", taken from the upcoming album "Hadopelagic" and you can see it below:
Maude promises that Sanguine Glacialis offer a very different live experience. "What really makes this band special is the vast variety of influences we have. It goes from technical death metal to classical, through nu metal, rock, jazz, pop, rap, world music, and so much more.On stage, we bring our own theatrical style as well as a dark atmosphere that fits our songs. We have our own dynamic, and I play keyboards and sing at the same time during the show, which is also a change from the typical front-woman!"
[quadsvi id=1]
Support World Of Metal
Become a Patron!
New WOM Android APP – Read All Our Issues for free!
World Of Metal Magazine – Out Now
Download It Here!