WOM Features – Machine Head / Warfist / Dalriada
MACHINE HEAD – release 'Ten Ton Hammer' live video from "Catharsis" bonus DVD
San Francisco Bay Area metal titans MACHINE HEAD, will release their highly anticipated new album »Catharsis« on January 26 via Nuclear Blast Entertainment. Today, the band has released the live video for the song 'Ten Ton Hammer' from the bonus dvd (21 song live concert filmed live at The Regency Ballroom, San Francisco, CA, 2015) of the limited edition of their upcoming album »Catharsis«.  Watch it below:
»Catharsis« was produced by Robb Flynn and recorded, mixed, and co-produced by  ZackOhren (FALLUJAH, ALL SHALL PERISH) at Sharkbite Studios in Oakland, CA. Mastering was handled by Ted Jensen (HATEBREED, ALICE IN CHAINS, DEFTONES) at Sterling Sound, New York, NY. Cover photography was created by Seanen Middleton.
To pre-order »Catharsis« in various formats (CD, Digipak, CD-Digi + DVD + 2LP Boxset, black, picture, red, dark blue, bi colored, splatter vinyl – see below), visit this location: http://nblast.de/MachineHeadCatharsisNB
To purchase or stream 'Beyond The Pale', go to: http://nblast.de/MHBeyondThePale
WARFIST Reveals Details New Release And Presents Official Video
Following up on the highly acknowledged 'Metal to the Bone' album, the inheritors of the best traditions of the Teutonic metal, Warfist strike again with a new material recorded for a split release with the black/thrash metal horde Excidium. Both bands have prepared four tracks each for the release that is going to come out under the shared title 'Laws of Perversion & Filth'. The main motiff of the album cover was developed Marek Szymański, while the graphic design of the entire release was handled by Paweł Ozon.
Guitarist and vocalist Mihu comments: "We wanted our part of 'Laws of Perversion & Filth' to be sort of a reflection of the Warfist roots and by that I mean the times when we would lock ourselves in our rehearsal room with a multi-track tape recorder and loads of beer, and record our first songs. The new version of 'Sadistic Whorefuck', as well as the cover song, are also a references to those times. We wanted to emphasize the thrash'n'roll attack, without caring whether it would be something innovative or ground-braking… So basically we did what we always do."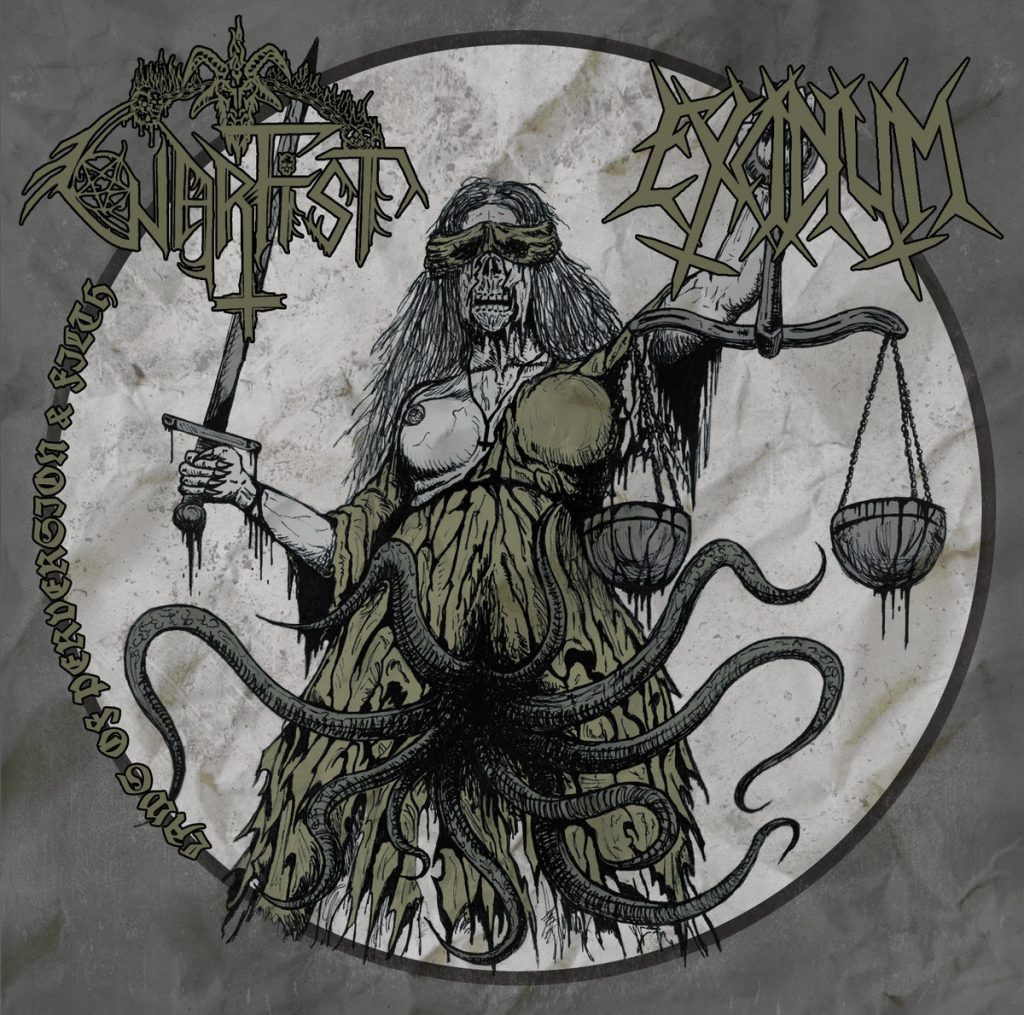 WARFIST tracklist:
01. The Tomb of Desire
02. Debauchery (Dirty Little Bitch)
03. Sadistic Whorefuck
04. Angel Death (Dodheimsgard cover)
Line-up:
Mihu – vokills, chainsaw
Wrath – bulldozer
Pavulon – skullcrushing
EXCIDIUM tracklist:
05. Suicidal Perspectives
06. Denial
07. Veil of Stagnation
08. Karmageddon Warriors (Impaled Nazarene cover)
Line-up:
Cuntreaper – vocals
Peter Krieg – guitars
Golem – bass
Thot – drums
Laws of Perversion & Filth is scheduled for a release on 15 January 2018 in CD and Digital formats through Godz Ov War Productions. Get a taste of 'perversion & filth' by listening to a two track below:
In collaboration with Riff TV and Studio W66, Warfist also prepared a video for the title track off the latest album, with guest appearances by Heretik Hellstorm (Ragehammer), Hellscreamaross (Offence) and Armagog (Throneum).
The video can be watched here:
Dalriada release new music video for 'Búsirató'
The leading hungarian folk metal band, Dalriada just released a new music video for 'Búsirató' from the upcoming new studio album 'Nyárutó'.  Watch the video here:
'Nyárutó' will be released by Nail Records on digipak CD, MC and digital. Worldwide release: 19th January 2018 and distribution will be operated by Plastic Head Music Distribution (www.plastichead.com) – the album will be available on all major digital platforms!
Studio recordings were done by Denevér Studió and final works and mastering by the finnish Finnvox Studios under the direction of Mika Jussila (Nightwish, Amorphis, Sólstafir, Stratovarius).
Direct preorder available from now on through the band's website:
www.dalriada.net
[quadsvi id=1]
Support World Of Metal
Become a Patron!
New WOM Android APP – Read All Our Issues for free!
World Of Metal Magazine – Out Now
Download It Here!