WOM Features – Mayhem / Seita / Carcharadon
Mayhem re-issue "Grand Declaration of War (2000)"
Black metal legends MAYHEM are announcing the re-release of 'Grand Declaration of War (2000), which is completely remastered by Jaime Gomez Arellano at the Orgone Studios (UK). The album is slated for release on December 7th, 2018. To get a taste of the new offering in comparison of the original 2000 version, please check out the special made video below:
The cover of 'Grand Declaration of War (2018)' has been created by renowned Polish artist
Zbigniew M. Bielak
 (GHOST, PARADISE LOST, BÖLZER, ZHRINE) and can be viewed together with the track-list below.
Tracklist
1. A Grand Declaration of War (4:15)
2. In the Lies Where upon you lay (6:01)
3. A Time to Die (1:49)
4. View From Nihil; Pt. 1  (3:05)
5. View From Nihil; Pt. 2  (1:17)
6. A Bloodsword And A Colder Sun, Pt. 1 (0:34)
7. A Bloodsword And A Colder Sun, Pt. 2 (4:28)
8. Crystalized Pain In Deconstruction   (4:11)
9. Completion In Science Of Agony, Pt. 1 (9:47)
10. To Daimonion  (3:27)
11. Untitled I (4:54)
12. Untitled II (0:07)
13. Completion In Science Of Agony, Pt. 2 (2:15)
Total: 46:10
In 2018, "Grand Declaration of War" was remastered by Jaime Gomez Arellano in the Orgone Studios (UK). He comments on the remaster:
"It was a challenging remix to do, starting with the now obsolete format it was recorded in (ADAT). When we got the tapes, they were sent to a tape transfer specialist here in the UK and they were in a tape incubator for a couple of days to ensure the the tapes weren't destroyed when played back on the ADAT deck (tape doesn't age well if not stored correctly). Although the overall recording of GDoW was done to a very high standard, the main two things that bugged me was the drum sound and the overall crispiness/digital thin-sound of it (ADAT's don't sound very good IMO). The biggest challenge (you guessed it) was the drums.
Hellhammer recorded on an early Roland Vdrum kit with real cymbals. Back then those clicky, super compressed drum sounds were cool, but I think most of us agree these days that it's an unnatural sound and the samples themselves weren't that good. I had to split each tom hit into a separate track, which was very time consuming. I literally had to go pretty much though every drum hit to make sure the new samples were triggering correctly and believe me, there are A LOT of drum hits on this album. My goal was to make it sound more like a real kit. After much work and refining, Hellhammer came to visit me at my studio for a few days where we went through every drum track to ensure it was accurate to his performance.
The bass guitar pretty much didn't exist on this album! After bringing it it forward and beefed it up, I was surprised to hear some very cool bass lines that I've never noticed before. The recorded guitar sounds were killer actually, they were just a little thin and crispy so I gave them more "body" and a bit more "warmth" without hindering Rune's quantum precision. I was told by Rune that Maniac didn't want any changes to his voice and I totally respect that. I painstakingly compared the original album vocal effects and levels to preserve it as close as I could. I ended up mastering the album to analogue tape to get a bit more warmth, depth and bottom end. I hope you all enjoy this new mix of this legendary album!"
On further news, MAYHEM are releasing a unique box, containing not only both LP versions of 'Grand Declaration of War', but also the 12″ LP's of  'Chimera' (2004) & 'Ordo ad Chao (2007)', the 10″ EP of 'Wolf's Liar Abyss' (1997), and two 10″ EP's containing never released bonus tracks all bound together in a very special leather box.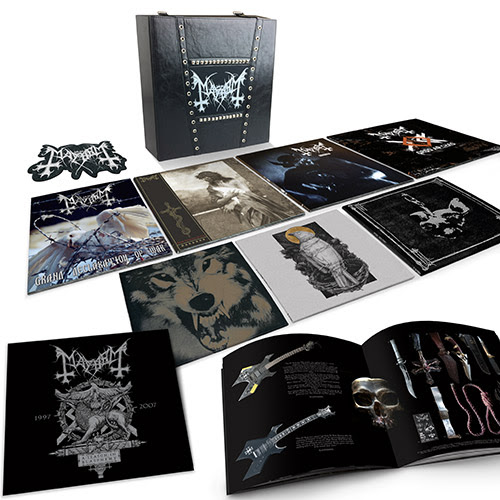 ---
SEITA release second digital single
The Dutch death/thrash outfit SEITA, who are going to release their album "Maledictus Mundi" on October 26th via Massacre Records, have released their second digital single today!
"Cowards To The Lions" is also accompanied by a lyric video – check it out below:
"Maledictus Mundi" was mixed and mastered by Jochem Jacobs. The cover artwork has been created by Tobias Huber a.k.a. Bloodboy. You can already pre-order the album here » https://lnk.to/seita Brace yourselves; the death and thrash metal sound-wave SEITA brings, will destroy the sugarcoating that stands between you and today's bitter truths!
---
Italy's Sludge Rockers CARCHARODON premiere brand new video
Italy's Sludge Metal trio CARCHARODON, who just recently unveiled the release of their third album titled 'Bukkraken' coming October 26th 2018 with Argonauta Records, have just premiered a first music video with Doomed & Stoned, Deaf Forever Magazine and Metal Italia to the song 'U-666′! This fierce track is another anthem the band has now unleashed, with a fast paced intro and a crushing doomy outro in the pure CARCHARODON style! You can hear High on Fire, Carnivore and EyeHateGod on this one, all mixed with the band's typical macho metal fury. Get some tasty appetizer of CARCHARODON's upcoming record and watch their brand new video right below:
"The lyrics are about a German submarine-crew which hadn't been informed that WWII was over and kept roaming the seas until they become horny zombies desperately looking for ladies on deserted beaches "dead and reborn/consumed by porn/your zombie playboys are here.." – becoming kings of masturbation "our right arm is tired/the palms are worn out but Torpedo's well shined." the band explains tongue-in-cheek. "The video has been shot by our friend Andrea Cipriani, who did a fantastic job and really captured the "live" feeling of the song!"
Set for a release on October 26th 2018 with Argonauta Records as CD and Digital Download, 'Bukkraken' is now available to pre-order at:
http://www.argonautarecords.com/shop/en/cd/293-carcharodon-bukkraken-cd.html
---
[quadsvi id=1]

Support World Of Metal
Become a Patron!
New WOM Android APP – Read All Our Issues for free!
World Of Metal Magazine – Out Now
Download It Here!