WOM Features – Memoriam / Foghound / A Breach Of Silence
MEMORIAM – video clip of "Nothing Remains" released
The war rages on! Old school metal veterans MEMORIAM are set to unleash their second album, »The Silent Vigil«, on March 23rd, 2018 via Nuclear Blast Records. Just a year after the release of their debut album »For The Fallen«, the band returns with an authentic, raw offering of old school death metal destruction.
Now the band have revealed the Video clip of the second digital single  'Nothing Remains'. Watch the clip below:
Live footage shot at Dark Easter Metal Meeting München and Asylum, Birmingham.
All other video work, concept and editing by Timm Sonnenschein www.timmsonnenschein.com
The band states:
"'Nothing Remains' is about dementia and in particular about Karl's mother's struggle with this condition. The video is showing the experience of loss and dissolution brought about by the disease in the burning of old family portraits of Karl's mother and family, parents of Memoriam members and of friends as well as random strangers. Similar to us all being of the same blood as expressed in the previously released 'Bleed the Same' we also all die and decay the same. "
Pre-order »The Silent Vigil« digitally and receive 'Bleed The Same' and 'Nothing Remains'  instantly or stream the songs: http://nblast.de/MemoriamBleedTheSame
Pre-order »The Silent Vigil« physically here: http://nblast.de/MemoriamTSV
---
FOGHOUND FINISH RECORDING THEIR THIRD FULL-LENGTH ALBUM 'AWAKEN TO DESTROY'; PREPARING FOR A LATE SUMMER 2018 RELEASE ON RIPPLE MUSIC
Maryland Doom & Stoner Rock stalwarts Foghound have recently put the finishing touches on their third full-length offering, entitled "Awaken To Destroy".  Their new album is set for a September release via Ripple Music.  With delays due to health scares and the tragic murder of bassist Rev. Jim Forresterin December 2017, the band has chosen to honor Rev.'s wishes and will "Keep On Shoveling".
Work began on the album in November 2016, with producer Frank Marchand (The Obsessed / Borracho) at the helm.  Numerous delays along the way sidelined production due to health issues, professional and personal commitments, and then the tragic murder of bassist Rev. Jim Forrester in December 2017, just days after completing recording of the basic tracking.
"After seeing Jim claw and fight his way back after a major health scare and being in a coma last summer, only to be senselessly taken away from us all in this way, it really hit everyone like a ton of bricks", says drummer / vocalist Chuck Dukeheart.
"The outpouring of love and support from everyone, and especially our friends and family in the Maryland Doom scene, was overwhelming.  We can't thank everyone enough for helping us, Jim's wife Tina, and family to get through this terrible time."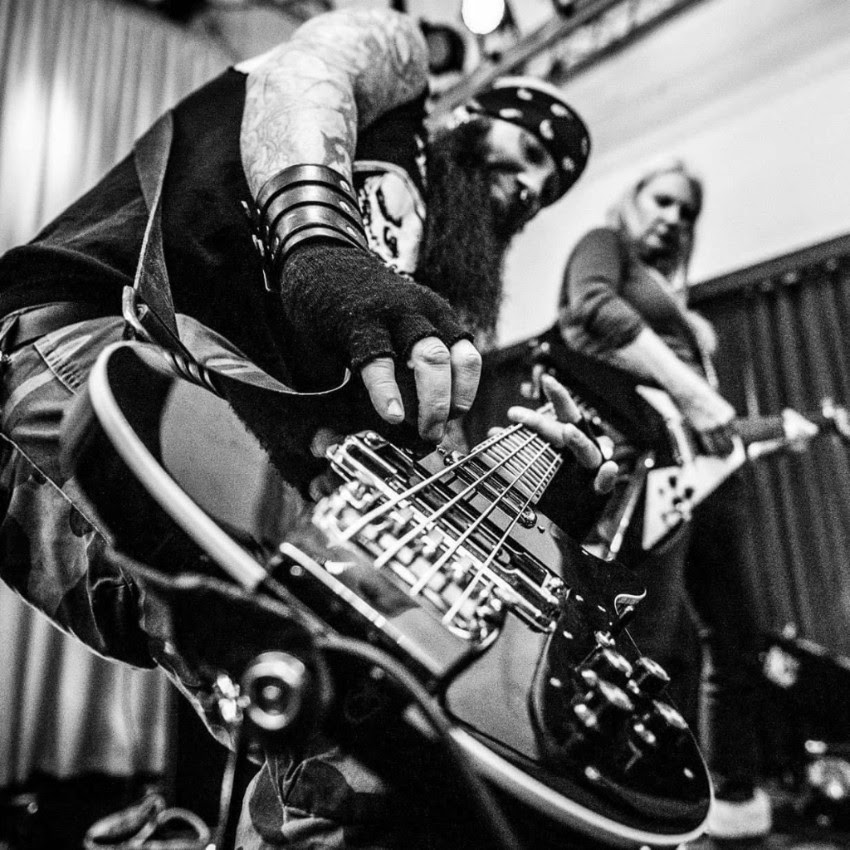 Reverend Jim Forrester, 1974 – 2017
Among the multiple benefit events and fundraisers for the family, Ripple Music released as a benefit single the new Foghound track "Keep On Shoveling" on January 1st, via Bandcamp as a "Name Your Price" download purchase.  Written with a theme of perseverance in the face of adversity, the song features a spoken word portion from Rev. Jim. The song has taken on a new meaning for the band after his untimely passing.
Another new track, "Return To Dragontooth", will appear on an upcoming benefit compilation, due out from Salt Of the Earth Records.
Foghound emphasizes, "One thing that became apparent was that we all knew, and Jim said as much when he was laid up in the hospital last summer, was that he wouldn't want us to stop.  In his words – 'We still have shit to do.'"
After taking time to regroup, this February saw Foghound back in the studio to wrap up tracking of vocals, guitars, and keyboards.  They have finally been able to complete mixing to get it ready for release.
Along with wrapping up the album, the band got themselves back in their rehearsal space, and have recruited long time friend of the band, bassist Adam Heinzmann (Internal Void, Pentagram), into the fold.
The band stated, "It was a very heavy, emotional time for us, to be back in the jamroom without Jim, but Adam really stepped up in a big way.  His enthusiasm, preparedness, and love for the music really helped us get back to why we all play music.  We were able to have fun again." 
Foghound is set to return to the stage with notable upcoming appearances at the New England Stoner and Doom Fest at Altone's in Jewett City, Connecticut on April 21st, and The Maryland Doom Fest at Cafe 611 in Frederick, Maryland on June 23rd.
"We are looking forward to being a part of these stellar lineups and to play these new songs live.  We can't wait for this monster of an album to be unleashed at the end of the summer!"
---
A BREACH OF SILENCE reveals new 'Secrets' music video
Australia's award winning powercore-metal pioneers A Breach of Silence have revealed a brand-new music video for the title track off their latest album Secrets. This is the third music video from their latest full-length album produced by Fredrik Nordstrom (Bring Me the Horizon, Arch Enemy, In Flames). The video was directed by Matt Donaldson.
"The issue with the world right now is that social media reinforces your beliefs and opinions (whether they are right or wrong), which can create less free-thinking and more uneducated opinions" states bassist Blair Layt. "the result is people fall further down a path of values (or lack thereof) based upon those reinforced beliefs. At the end of the day it takes critical thinking and due diligence to weed through all the false messaging out there. That's essentially what we wrote the song about, but we tried to write it in a way, so people can connect to it however they want. There's a million different ways to interpret it, and that's the beauty of music." 

Guitarist Mat Cosgrove elaborates, "For the video, we wanted to do something a little different. We used "beauty" as a metaphor for the music. We wanted to feature some of our favorite places in Queensland which are very close to our hearts, and it certainly doesn't hurt to have someone a bit more attractive than us in the video either. But what is she thinking? What does her body language, and facial expressions mean? It all depends upon how you interpret it. Based on whatever you think, it can be interpreted in any number of ways. That's the essence of music and the arts, it can be seductive and breath-taking while not "forcing" someone to draw a specific opinion about something. That's our Secret."
---
[quadsvi id=1]
Support World Of Metal
Become a Patron!
New WOM Android APP – Read All Our Issues for free!
World Of Metal Magazine – Out Now
Download It Here!