WOM Features – Ministry / Afterdusk / Pissboiler
Photo by Phil Pharmet
MINISTRY – announce new album, releases  single and start pre-order
"It's like the Nazis back in '39
Like the Romans on the verge of decline
Like the Russians back in '68
How is this supposed to make American great?
— 'AmeriKKKant'
American industrial juggernaut MINISTRY, announces its new album »AmeriKKKant«, the band's first release for Nuclear Blast Records (worldwide), due out March 9, 2018. In addition, the band's Al Jourgensen is proud to release the album's first single/ official music video, 'Antifa,' that stands up to the political chaos that is currently going on in America and can be checked out here:
Get the new single here:
http://nblast.de/MinistryAntifa
"This album, »AmeriKKKant«," said Jourgensen, "will provide FEMA-type relief for the devastation 'Hurricane Cheeto' has brought upon us."
Produced by Al Jourgensen, recorded at Caribou Studios in Burbank, CA between January and May this year, and with striking artwork created by Mister Sam Shearon, the psychedelic, politically influenced and very much in-your-face »AmeriKKKant«'s nine tracks are rooted in Jourgensen's unadulterated anger for what's happening in America today; the waning respect for the U.S. Constitution, the growing acceptance of one's opinions replacing facts, the decline of our leaders' sense of morals, ethics and personal responsibility to the country and to their constituents, and the mad man in the White House. The »AmeriKKKant« track listing is below; you can pre-order your physical or digital copy today via Nuclear Blast:
http://nblast.de/MinistryAmeriKKKant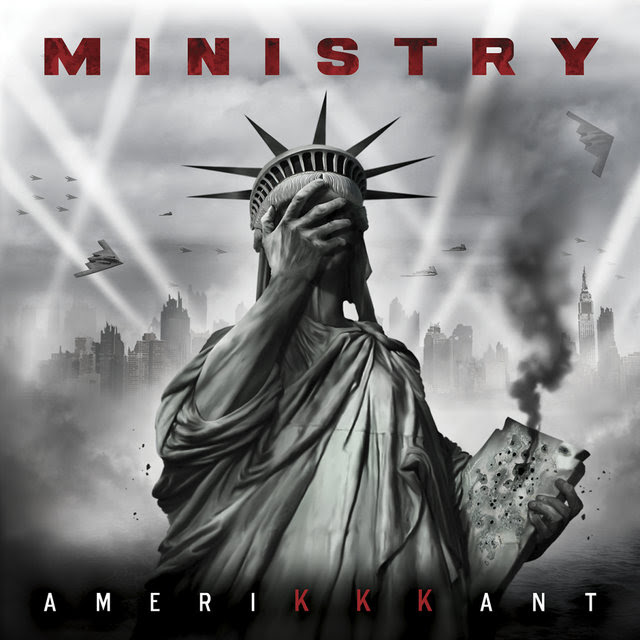 "AmeriKKKant" track listing:
1.  I Know Words
2.  Twilight Zone
3.  Victims of a Clown
4.  TV5/4Chan
5.  We're Tired of It
6.  Wargasm
7.  Antifa
8.  Game Over
AFTER DUSK release a playthrough video
Greek heavymetallers AFTER DUSK have just released a playthrough video to "Kings Of Misery". The song comes from the new AFTER DUSK album "The Character Of Physical Law".
 After Dusk is a heavy metal band from Athens, Greece founded in 1998. They have released 3 full-length albums and played many concerts in venues and festivals. The band describes their music by a quote, written by the press, for one of their records:  "…pure heavy metal can exist…"
Their latest album is entitled "The Character Of Physical Law". Produced by After Dusk, engineered, mixed and mastered by George Emmanuel and released worldwide on May 23rd, 2017. The goal was to forge their heavy, thrash and black metal alloys into one…
Email: info@afterduskmetal.com,  riseafterdusk@yahoo.gr
          www.facebook.com/AfterDuskMetal
         www.reverbnation.com/afterdusk
PISSBOILER "Ruins Of The Past" – The second single is online now!
Describing Pissboiler's sound is not an easy task. So many emotions can easily transpire from tracks as thick as layers of  gore. There is something unique in their sound which can't be explained with mere words. To some it can be the sound of redemption, to others the sound of perdition. In their music, the two opposites collide and the result is somehow a unique bland which can't leave you indifferent to it. Here we come today with the band's second single track, which, in its totality, channels the real essence of the band. Here comes "Ruins Of The Past".
[quadsvi id=1]
Support World Of Metal
Become a Patron!
New WOM Android APP – Read All Our Issues for free!
World Of Metal Magazine – Out Now
Download It Here!