WOM Features – Philip H. Anselmo & The Illegals / Mindpatrol / Worhol
PHILIP H. ANSELMO & THE ILLEGALS release first track and details of new album
PHILIP H. ANSELMO & THE ILLEGALS are announcing the release of their sophomore full-length, 'Choosing Mental Illness As A Virtue'  through the singer's label Housecore in the Americas and in licence via Season of Mist in other parts of the world on January 26th, 2018. The band is now releasing the title-track "Choosing Mental Illness" outside of the Americas at the link below.
PHILIP H. ANSELMO comments: "Our new album, 'Choosing Mental Illness As A Virtue' is going to get hated. It's going to get loved. Like every record, I've ever done, I put zero expectations upon my peers, critics, or the general fucking public. If you take one thing away from it, let it be this: Do not bog yourself down to one brand, character, or whatever. Have the guts to spread your wings and fucking flourish. I can promise you this is a beginning. As my music trickles out over the next two years, it's going to be quite the roller coaster ride. This new ILLEGALS is just the tip of the whole fucking avalanche."
The line-up of the THE ILLEGALS has changed on several position since album one. This is what Phil has to say about his new crew: "Their creative input is fucking fantastic. This is something that was very different from the first record where I was very staunch. I wanted it to be ugly. I was very firm that I was writing every fucking note. The thought was, 'This is my contribution to ugly music right this second in a heavy metal vein.' That was great at the time. 'Walk Through Exits Only' made its own little statement that I am a free agent and I belong to no single band. This time, I worked closely with everyone. We tried different ideas together. It made the spirit of this thing come alive even more because of the enthusiasm these guys bring. It enhanced the integrity of the project."
On further news, PHILIP H. ANSELMO & THE ILLEGALS are also releasing artwork and album details of 'Choosing Mental Illness As A Virtue', which can be viewed below.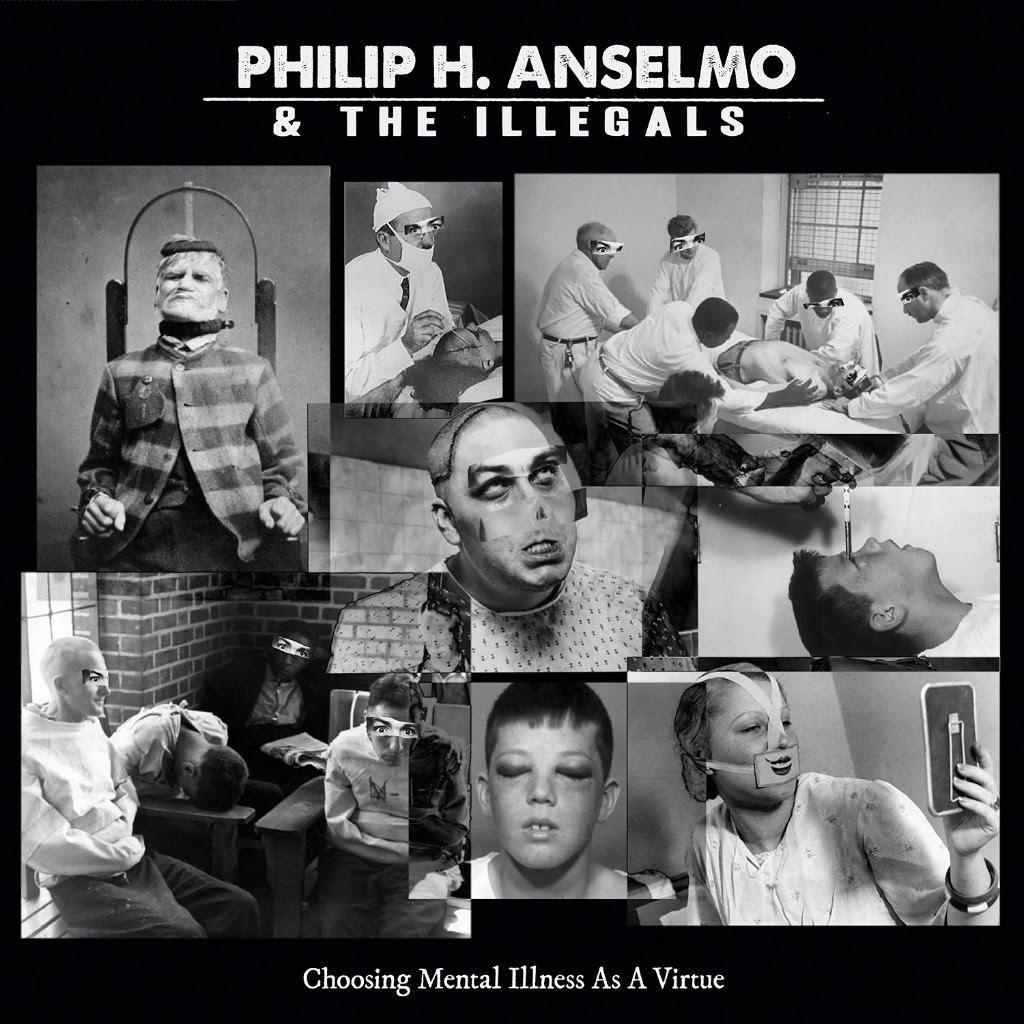 Track-list
1. Little Fucking Heroes
2. Utopian
3. Choosing Mental Illness
4. The Ignorant Point
5. Individual
6. Delinquent
7. Photographic Taunts
8. Finger Me
9. Invalid Colubrine Frauds
10. Mixed Lunatic Results
Mindpatrol publish second song from their new album
As the release of Extreme Progressive Metal band Mindpatrol's third album "Vulture City" approaches, the six-piece from tiny Luxembourg just released a second new track called "I, Observer With Crimson Hands". How does it sound like, you ask? Well, imagine a small fellow who is really angry and jumps around yelling with his cartoid artery being clearly visible. Or a piece of lego you step on immediately after hurting your pinky toe at the doorframe. You get the idea. No fancy video needed, a guitar playthrough in a state of deepest hangover does the trick just fine.
The untrve production of the album is totally Sebastian Levermann (Orden Ogan)'s fault. You can check out the video below:
Worhol Premieres Brand New Music Video
Wormholedeath's Publishing Artist Worhol (symphonic rock) is pleased to release their brand new music video. The video, for the track "Already Forgotten" is in promotion of the recently released The Awakening (Imminence Records). You can see the video below:
The band are currently planning for an eventful 2018 and beyond.
"This video portrays topics that are very personal. We in Worhol want people to know that there is hope and always a way to heal. May this video bring courage, and strength to the world for anyone who has or is going through anything personal. You are loved by each of us." – Ashley Worhol (Vocalist)
Support World Of Metal
Become a Patron!
New WOM Android APP – Read All Our Issues for free!
World Of Metal Magazine – Out Now
Download It Here!