WOM Features – Rotten Sound / Chaostar / Erdve
Rotten Sound reveal first track and details of forthcoming new EP
ROTTEN SOUND 
are unleashing the first crushing track taken from their forthcoming new EP, 'Suffer to Abuse' – not to be confused with the band's previous album 'Abuse to Suffer'. The EP will hit stores on
April 13th, 2018
. The release dates coincides with the start of
ROTTEN SOUND
's European tour.
The Finnish grindcore stalwards are now streaming "Harvester of Boredom" below:
Vocalist Keijo Niinimaa comments: "Our new track 'Harvester of Boredom' is the first song created for this release: Sami's riffs and the lyrics are about a drug related harvesting in not-so-good conditions. This has nothing to do with Metallica – except for the nodding tribute in the title – just in case someone mistakenly thought that we wanted to comment on their efforts."
ROTTEN SOUND are furthermore releasing the artwork of 'Suffer to Abuse', which has been created by Thomas Boutet at Mush Design and can be viewed together with the album details below.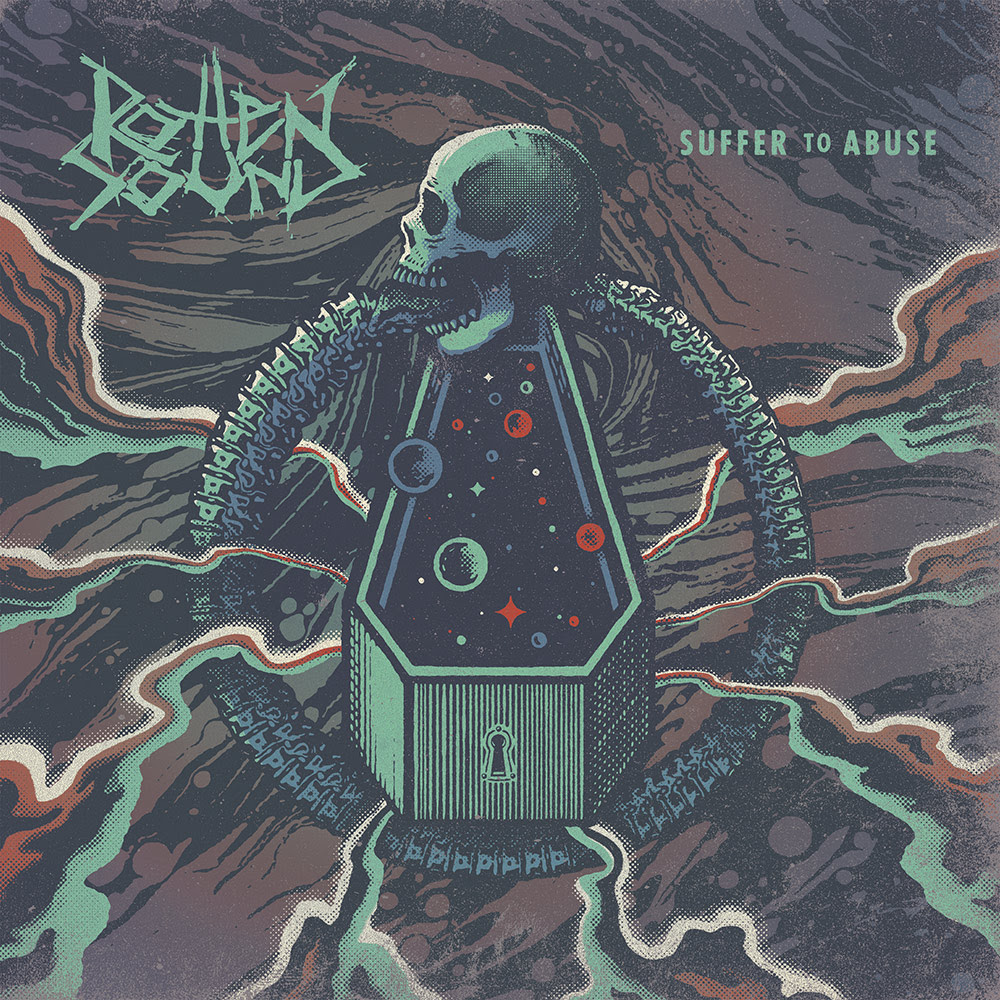 Track-list
1. Privileged (
1:25
)
2. The Misfit (
1:53
)
3. Stressed Mess (
2:05
)
4. Harvester of Boredom (
2:01
)
5. One Hit Wonder (
1:19
)
6. Nutrition (
2:23
)
7. Slaves of Lust (
0:51
)
Total playing time
:
9:52
---
Chaostar premiere second track of forthcoming new album
CHAOSTAR are streaming the second single of their forthcoming album, 'The Undivided Light'. The Greek avant-garde explorers will release their fascinating fifth full-length on March 23rd, 2018. The complex track, "Tazama Jua" is now premiering below:
Pre-sales: http://smarturl.it/ChaostarUndivided
Erdve stream live video for "Prievarta"
ERDVE have released a live video for the crushing track "Prievarta", which is taken from their acclaimed debut full-length, 'Vaitojimas'. The Lithuanian experimental hardcore collective was filmed at their first live show at the Armageddon Descends V festival in Vilnius, Lithuania, 2017, which is the biggest annual in-door event of the Baltic extreme metal scene.
"Prievarta" (live) can be viewed below.
Video credit
Directing, filming, editing: Fathomless Mirror Reflections
ERDVE will celebrate their new album with a release show supporting CELESTE and the additional bands WLVS and VÓLAN in the Lithuanian capital Vilnius at Noize Inferno on March 29th.
Booking: erdvelt@gmail.com
Shop: http://smarturl.it/ErdveShop
---
[quadsvi id=1]
Support World Of Metal
Become a Patron!
New WOM Android APP – Read All Our Issues for free!
World Of Metal Magazine – Out Now
Download It Here!