WOM Features – Skinned / Aephenemer / Beast In Black
SKINNED Release Official Video for First Single from Forthcoming Album 'Shadow Syndicate'
Colorado Death Metal veterans SKINNED have released the official video for "We Are The End," the first single from forthcoming new album Shadow Syndicate. The video was filmed/edited by Obscenery Films and can be viewed below:
Recorded by Dave Otero at Flatline Audio (Cattle Decapitation, Cephalic Carnage, etc),Shadow Syndicate features 10 songs of crushing, shredding Death Metal born of Rocky Mountain blood. Plans for the album's official release are currently in the works. Stay tuned!
Track List:
 1. Wings of Virulence
2. As Their Bodies Fall
3. Mental Deconstruction
4. We Are The End
5. Black Rain
6. Shadow Syndicate
7. Hallowed Earth
8. Led to the Trains
9. Angel's Haarp
10. In the Mist of Dawn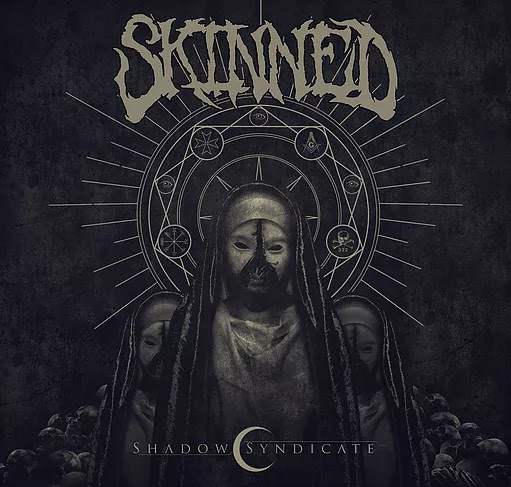 Devangelic release new track "Manifestation Of Agony"
alian brutal death metal act Devangelic have unveiled a new track "Manifestation Of Agony" off of their new album "Phlegethon".
Comatose Music will have that album in stores on October 27th
AEPHANEMER: new single 'Path of the Wolf' available for full-streaming
French Melodic Death metallers AEPHANEMER have made their new single, 'Path of the Wolf', available for full streaming. Path of the Wolf was mixed by Dan Swanö at Unisound AB and mastered by Mika Jussila at Finnvox Studios.
Listen to 'Path of the Wolf' below:
The quartet broke into the metal scene with their debut EP 'Know Thyself' in 2014, followed by their full-length 'Memento Mori' in 2016.
Integrating musical elements from scandinavian Melodic Death Metal, slavic traditional music and classical symphonies, AEPHANEMER brought some freshness to the modern metal scene and generated significant expectation from their newly formed and quickly growing fanbase.
BEAST IN BLACK – present 'Beast In Black' lyric video
International heavy metallers BEAST IN BLACK will unleash their debut album »Berserker«, in three weeks via Nuclear Blast Records. To give their fans another musical taster of what to expect from this 10-track power package, the band founded by BATTLE BEAST guitarist Anton Kabanen have launched a lyric video for 'Beast In Black', over on YouTube. Based on a picture by Anato Finnstark / Finnstark Illustration (https://www.facebook.com/finnstarkillstration), the clip perfectly underlines the energy of the album's opening track. Check it out now:
Anton commented:
"As well as the band name, this track was inspired by a character from the »Berserk« manga. Though the lyrics are directly connected to that character they are also speaking in metaphors about something personal. It's one of the most powerful songs on the album and Kasperi's guitar solo in this one is probably the best one on the whole album!"
Support World Of Metal
Become a Patron!
World Of Metal Magazine – Out Now
Download It Here!