WOM Features – Týr / Aria / Devil Master
TÝR launches video for new single, 'Sunset Shore'
On March 8th, the Faroe Islands' TÝR will release their eighth full-length, 'Hel', via Metal Blade Records. 'Hel' is a collection of ruthlessly melodic and irresistibly compelling progressive folk metal that will immediately resonate with any who have followed the band at any point over the two decades of their storied career. For a preview of the album, a video for the new single, 'Sunset Shore' (directed by mihasznafilm.com), can be viewed below:

TÝR vocalist / guitarist Heri Joensen comments: "In early January, immediately after spending our holidays in the Faroes, Gunnar and I traveled to Hungary to our bandmates, Tadeusz and Attila, in Budapest. Finally, it was time to shoot another video, our first since 2014, and we're very happy to present this one to you!
"The Hungarian film production crew, Mihaszna Film, arranged the trips, starting from Budapest and going first to the Julian alps in Slovenia. In the fields and rivers of the snowy mountains we had some amazing scenery for 'overworld' part of the video. A few days later we traveled on to the caves of Szent-István in northern Hungary, and deep underground we found some dark and gloomy caves to be the perfect backdrop for the underworld part of this video.
"Terji wrote 'Sunset Shore', for our upcoming album, 'Hel' – to be released on March 8th, and he plays the solo on the album version, but not in this video. We decided it was the perfect opportunity to introduce you all to the amazing talent of Attila Vörös, who recorded his own version of the solo a few days before the video shooting. The lyrics, written by me, are about how the mind can sometimes be a windswept and weatherworn landscape, and how the only thing to do, in spite of hopelessness and despair, is to aim for a better place and to work towards better times.
"We hope you enjoy the result!"
The previous single, 'Fire and Flame', can also be heard at: metalblade.com/tyr – where 'Hel' can be pre-ordered in the following formats: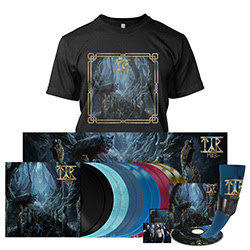 –digipak-CD
–box set (digipak CD, drinking horn, leather belt clip, poster, autographed photo card – limited to 1000 copies)
–steel-blue / gray marbled vinyl (US retail exclusive – limited to 500 copies)
–clear mushroom brown marbled vinyl (US webstore exclusive – limited to 200 copies)
–blue / white / black / red splatter vinyl (US webstore exclusive – limited to 100 copies)
–180g black vinyl (EU exclusive)
–turquoise blue marbled vinyl (EU exclusive – limited to 500 copies)
–clear / blue marbled vinyl (EU exclusive – limited to 300 copies)
–bordeaux red /black marbled vinyl (EMP exclusive – limited to 200 copies)
–olive marbled vinyl (Nuclear Blast exclusive – limited to 200 copies)
–white / blue marbled vinyl (Tutl exclusive – limited to 100 copies)
---
ARIA: 'To Kill the Dragon' Video Released
"To Kill the Dragon", the new video from Russian metal legends ARIA, can be seen below. The song is taken from the band's latest album, "Curse Of The Seas", which was released in November 2018 via M2BA.
The band says:
"We decided to produce a music video for "Kill the Dragon" because we wanted a video for a more untypical Aria song. The video shoot took place in December 2018, nearby the city of Moscow, Russia. The chosen location was an 18th century settlement that was built specially for movie shooting. For the crowd scenes we involved our beloved fans. Even though, it was -15 degrees at that day, everyone stayed in their positions and enjoyed the process."
"Curse Of The Seas" was mixed by Roy Z (Bruce Dickinson, Judas Priest, Halford) and mastered by Maor Appelbaum (Malmsteen, Lita Ford, Faith No More, Rob Halford, Yes). 
"So here we are with Aria still going strong after 34 years being in the game. The greatest and most popular Russian heavy metal band is back with their 13th full-length album of full out traditional and progressive metal jams."
"Just a little background on the Aria of today: the sole remaining founding member is guitarist Vladimir Kholstinin and he is still churning out memorable riffs and melodies. Vocalist is the highly skilled Mikhail Zhitnyakov and has been with the band for 7 years now. Aria has started to incorporate some more classical type sounds on this record and it is a welcome addition to the foray. And for those that don't know anything about Aria – they sing in their native language, not English."
---
DEVIL MASTER release video for "Black Flame Candle"
DEVIL MASTER give us a second taste of their forthcoming album today with new single and video "Black Flame Candle". See link below or click here to watch.
Philadelphia's DEVIL MASTER stake their claim as one of the most venomous, twisted entities in the underground with their hellish debut, Satan Spits on Children of Light. The album, recorded with mastermind Arthur Rizk (Power Trip, Volahn, Code Orange, Prurient) rattles the very gates of hell with a vile dose of black metal-infused punk mayhem. Satan Spits on Children of Light sees DEVIL MASTER emerge from the grave and reach new blasphemous heights.
"We're not pandering to any trends or other genres. It's entirely its own thing. It's for people to open their minds and have fun with-but also get lost in." Such is the gospel according to DEVIL MASTER guitarist Darkest Prince, as it concerns the six-sided musical legion he helped actualize in 2016. Swirling in the ominous fog that clings to the cobblestones of their native Philadelphia, DEVIL MASTER conjure an unholy trinity of death rock, punk and black metal that manages to transcend all three. Commanding the steel of Venom, the fury of Bathory's earliest years and the raw, uncompromising nature of the notorious GISM, Satan Spits of Children of Light sees the band emerge from the grave and reach new blasphemous heights.
Though all six band members are in their 20s, DEVIL MASTER is not their first foray into the dark arts. Darkest Prince has been playing bass onstage with hardcore legends Integrity for the past two years, while bassist Spirit Mirror fronts post-punk outfit Blank Spell and was a member of the mostly female hardcore troupe S-21. Not to be outdone, keyboardist Dodder plays in Grave Turner with members of punk-pop darlings Sheer Mag.
After a pair of self-issued, self-recorded cassette releases-2016's DEVIL MASTER demo and 2017's Inhabit The Corpse EP (both of which were later fused together on 2018's Manifestations compilation) – DEVIL MASTER greets the final year of this bizarre decade with their first proper full-length. Satan Spits on Children of Light is available for pre-order here.
---

Support World Of Metal
Become a Patron!
New WOM Android APP – Read All Our Issues for free!
World Of Metal Magazine – Out Now
Download It Here!