WOM Features – Tyr / Jinjer / Lavidius
TYR reveals details for new album 'Hel'
On March 8th, the Faroe Islands' TYR will release their eighth full-length, 'Hel', via Metal Blade Records. 'Hel' is a collection of ruthlessly melodic and irresistibly compelling progressive folk metal that will immediately resonate with any who have followed the band at any point over the two decades of their storied career. For a preview of the album, the first single, "Fire and Flame", can be heard below:
If you head to metalblade.com/tyr – where 'Hel' can also be pre-ordered in the following formats: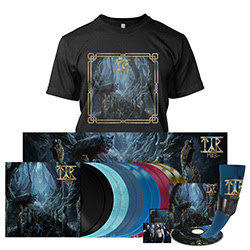 –digipak-CD
–box set (digipak CD, drinking horn, leather belt clip, poster, autographed photo card – limited to 1000 copies)
–180g black vinyl (EU exclusive)
–turquoise blue marbled vinyl (EU exclusive – limited to 500 copies)
–clear / blue marbled vinyl (EU exclusive – limited to 300 copies)
–bordeaux red /black marbled vinyl (EMP exclusive – limited to 200 copies)
–olive marbled vinyl (Nuclear Blast exclusive – limited to 200 copies)
–white / blue marbled vinyl (Tutl exclusive – limited to 100 copies)
–steel-blue / gray marbled vinyl (US retail exclusive – limited to 500 copies)
–clear mushroom brown marbled vinyl (US webstore exclusive – limited to 200 copies)
–blue / white / black / red splatter vinyl (US webstore exclusive – limited to 100 copies)
---
JINJER – Premiere Official Music Video For Track "Perennial"
JINJER are ready to drop their highly anticipated EP "Micro" tomorrow, Friday Jan 11th! To get in the right mood, the band premiered another single & music video off of their upcoming release. This powerhouse will present their EP all over Europe on tour with Amorphis, Soilwork and Nailed To Obscurity, which kicks off tomorrow as well! This is definitely how to start a new year right!
Check out the new music video for the track :
---
Lavidius – new pirate metal track 'Captain Benjamin Hornigold'
Brisbane's hard-out and heavy outfit 
Lavidius
 are today pushing out to sea with a new frontman in the form of 
Ben Davis
 (also of Brissy's
 Tria Mera
) and brand new cargo on board – a heavy ditty about the tale of Spanish Pirate Captain Benjamin Hornigold. It's the first taste of what the noted front-man is bringing to Lavidius and it's a beer-swilling, chugging tune that sets a new standard and vibe to the band.
The new single is available for purchase and streaming since this Friday, January 11 at iTunes/Apple Music, Spotify and all good online outlets.

Jon Shedden, guitarist for the band says of the new vocalist for the band – "Ben has a very professional attitude and fun vibe – he is already pushing us in music directions we previously didn't think possible," and bassist Sebastian Desmarais praised Davis, saying that "Ben brings experience, art and dedication – I am excited to see what unique quirks he will bring to Lavidius."

The brand new song is about a pirate named Captain Benjamin Hornigold, who was a privateer during the Spanish war who turned to piracy after the war ended and there was no use for his sailing experience. 

Davis explains the idea behind writing the song and its lyrics. "He has one of the best pirate stories… He and his crew got so drunk one night after a successful raid that they all threw their hats overboard. When they woke the next morning, they realized their mistake and hunted down a cargo ship and boarded it. They tied up the entire crew and took their hats. They left all of the cargo and only stole the hats to replace the ones they had thrown overboard in their drunken state the night before."

Lavidius is an Australian heavy metal band from Brisbane, formed in 2008. The band is now composed of Ben Davis (lead vocals), Jon Shedden (guitar and backing vocals), Marcus Glover (guitar), Sebastian Desmarais (bass guitar and backing vocals) and Ben Bowen (drums). Davis said that he is "…very excited to be involved with a hard working band that wants to push limits and make music that we all enjoy." 

Lavidius plays hard hitting music, with a unique blend of melody, down tempo grooves, finely tuned gutturals and ball tearing riffs that make you pull an ugly face because they are that filthy. Influences on the band include (though not limited to) Chimaira, Lamb of God, DevilDriver, Soilwork, Opeth, Parkway Drive, Gojira and Metallica, have been featured on triple j's The Racket, The Faction, Andrew Haug Radio and single Days Get Darker featured Soilwork's Bjorn 'Speed' Strid on guest vocals! Their career to date has also seen them support international artists Cradle of Filth and Angelus Apatrida as well as Australian legends Orpheus Omega, Witchgrinder, DarkCell, Chronolyth and Vanishing Point, as well as play Lagerstein's festival Lagerfest.

Lavidius' single Captain Benjamin Hornigold will be live in stores for purchase and streaming this Friday January 11.
---

Support World Of Metal
Become a Patron!
New WOM Android APP – Read All Our Issues for free!
World Of Metal Magazine – Out Now
Download It Here!